Event Information
Tuesday, April 4, 2017 7:00-8:00PM, book signing to follow
Sotheby's Institute of Art
570 Lexington Avenue, 6th Floor, 
New York, NY 10022
RSVP
If you can't attend the event in person, view it live on Facebook
---
Sotheby's Institute of Art Speaker Series presents:
An Evening with Legendary New York Street Artist Daze
Panelist: Daze, Street Artist
Moderator: Kathy Battista, Program Director for Masters of Contemporary Art and Summer Study Faculty, Sotheby's Institute of Art
Since the 1970's, Daze was one of the founding generation of street artists in New York City. His work, originally shown alongside Jean Michel Basquiat and Keith Haring, is now exhibited in galleries and museums worldwide. While his work is included in major public collections such as MoMA NY, The Brooklyn Museum, and The Ludwig Museum in cologne, he continues to create public murals and work in collaboration with youth groups. He is also a consultant, alongside fellow artist Crash and musician, Nas, for the series "The Get Down" on Netflix, directed by Baz Luhrmann. This talk provides a unique opportunity to hear about his acclaimed career and his reflections on New York City as a creative hub.
Founded in 1969, the Sotheby's Institute of Art is the first and foremost graduate school for the study of art and its markets. With more than 6,000 alumni working internationally in art fairs, galleries, museums, auction houses, and nonprofits, the Institute's alumni are shaping the future of the art industry. Past guest speakers at the Institute have included artists, such as: Ulay and Jaša, Dan Graham, Alexandre Singh, Glenn Ligon, Sanford Biggers, Carolee Schneemann, Dara Birnbaum, Alfredo Jaar, Ahmed Alsoudani; and art industry experts from Art Basel, Paddle8, Auctionata, Armory Show, Artsy, Whitney Museum, Swiss Institute, MoMA, and others.
---
About the Speakers
Chris Daze Ellis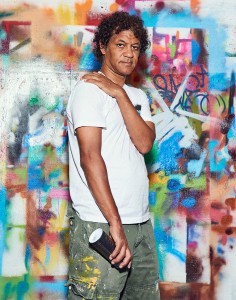 Chris Daze Ellis began his prolific career painting the gritty New York subways in the mid 70's while attending the High School of Art & Design. He is one of the few artists from that period to make the successful transition from the subways to the studio. His first group show was the "Beyond Words" show held at Mudd Club in New York in 1981.
Showing alongside artists such as Jean Michel Basquiat and Keith Haring, Daze sold his first work, an impromptu collaboration with Basquiat, from this show. His first solo show was held a year later in 1982 at Fashion Moda, a gallery in the Bronx. Since then he has had countless solo shows in such cities as Monte Carlo, Hong Kong, Paris, New York, Beijing, Chicago, and Singapore. His work has also been included in numerous group shows and museum surveys internationally. Alongside these museum and gallery exhibitions, Daze has also completed many public art projects over the years. Some of them include completing a mural for the Star Ferry Terminal in Hong Kong, lectures at Hofstra University, the Bronx Museum, completing the design of an entire train station in Hannover Germany alongside fellow artists Lee Quinones and Crash, youth workshops for with kids during the Hutuz Festival in Rio de Janeiro, and completing a mural for the Vivo City shopping center in Singapore.
Daze's paintings have found themselves in the private collections of Madonna and Eric Clapton, among others. His work can be found in the permanent collections of such museums as The Museum of Modern Art in New York, The Brooklyn Museum, The Museum of the City of New York, The Groninger Museum in the Netherlands and The Ludwig Museum in Aachen, Germany. Daze continues to work and live in New York City.
Kathy Battista
Kathy Battista is the Program Director of the Masters of Contemporary Art and Summer Study Faculty at Sotheby's Institute of Art, New York. Kathy earned her PhD from University of London, her MA from the Courtauld Institute of Art and her BA from Fordham University. She is a scholar, lecturer, and a curator of exhibitions in museums and galleries, most recently, Democracy: What's Right What's Left, Phoenix Gallery, New York, and E.A.T.: Experiments in Art and Technology at the Museum der Moderne, Salzburg, Austria.
She has authored numerous articles and books, including: New York New Wave: The Legacy of Feminist Art in Emerging Practice and Renegotiating the Body: Feminist Art in 1970s London. Battista is also Editor in Chief of the Benezit Dictionary of Artists at Oxford University Press. Along with managing and lecturing the Contemporary Art program, she will continue to offer "The Art of Fashion", a two-week summer course in June which she refines, develops and teaches year after year.