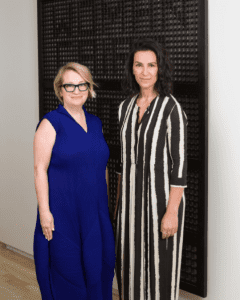 Institute faculty Kathy Battista is reevaluating the legacy of Minimalism, and in typical minimalist fashion, she's doing it subtly. In February 2017, Battista curated a show at the Shulamit Nazarian gallery in Hollywood entitled, "Escape Attempts." The name comes from a 1972 essay by Lucy Lippard. Battista employs seven female artists —Carmen Argote, Susan Hefuna, Cindy Hinant, Alex McQuilkin, Sarah Meyohas, Virginia Overton, and Naama Tsabar — to narrate her revision of this mid-century artistic tale. Heroic male artists stereotypically dominate the Minimalist oeuvre, but Battista shows that contemporary female artists have their own story to tell.
While some artists of the 1960s and 70s turned to Minimalism as a reaction to the elaborate expressionist style of the previous decade, or as a response to the existential meaninglessness driven by wartime ennui, women artists of today have more confrontational goals. "[I'm looking] at how women artists, most of whom are younger women artists, respond to themes of Minimal Art in their work," Battista says, "Not in the form of pure Minimalism, but in a way that injects gender and subjectivity into it." Where midcentury male-driven minimalism shrinks back, Battista's contemporary feminist minimalism shouts.
The idea to put seven female artists in conversation with Minimalism developed from Battista's upcoming book, New York New Wave: The Legacy of Feminist Art in Emerging Practice. "While most of the artists in this book look back to female role models, I was intrigued by those artists who openly acknowledged male predecessors: for example Cindy Hinant's affinity for Dan Flavin, Sol LeWitt, and DanGraham and Alex McQuilkin's direct references to Gordon Matta-Clark," Battista explained in an interview with Whitewall. "I love that feminism has become a more open place where the history of male artists can be part of that conversation." While the seven female artists featured in Battista's show may have borrowed from the boys, the work they create is original and demonstrative of each artist's unique female experience. The historical weight of this movement does not intimidate these female artists. It inspires them.
---
"Heroic male artists stereotypically dominate the Minimalist oeuvre, but Battista shows contemporary female artists have their own story to tell."
---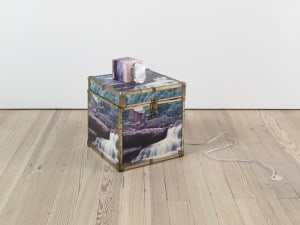 There are several ways in which these artists spin the typical idea of Minimalism in order to respond to the contemporary moment. "First, they inject personal or subjective narrative into the work," Battista says. Cindy Hinant's dark frames are more than monochromatic canvases. Hinant's mostly black Upskirt series invites the viewer to look closer, to squint, to explore as if lost in a dark room. What the viewer discovers is a misty portrait of a female celebrity emerging from a vehicle, turned upside-down. All of the notorious names that Hinant depicts- Kim, Angelina, Kate- were victims of the paparazzi obsession with capturing photos of famous genitalia. Hinant describes these works as representative of the "aesthetics of violation," and how female celebrities are exploited, and exploit themselves, in order to increase their popularity. The ascetic formal language hides any explicit content from Hinant's works, and incites the viewer to get closer and reflect on this celebrity exploitation. The artists in Battista's show have taken the Minimalist aesthetic and infused it with subjectivity to create works that explore substantial political themes in subtle ways.
Battista is also interested in the role that the personal and the nostalgic play in a contemporary, feminist conversation with Minimalism. Battista explains, "Each of these artists draws on their own local and socioeconomic histories in the work through the use of Argote's father's unrealized architectural drawings, McQuilkin's girlish New England wallpaper and linen patterns, and Hefuna's mashrabiya screens." Alex McQuilkin's wallpaper portraits evoke a memory of some childhood bedroom or a beloved grandmother's kitchen. Her works are personal, yet their impact depends on the viewer. Perhaps the artist anticipated this effect, as she calls them Untitled, with some parenthetical subtitle. Her gray, floral panel is called Untitled (For Corinne). Each person brings their past to McQuilkin's wallpapers and her nameless, Minimalist pieces become blank canvases for subjective play.
Kathy Battista's survey of feminist Minimalism is critically relevant in today's bitter cultural climate. The Lucy Lippard essay that inspired the name for Battista's show was written when second-wave feminists were struggling for equal treatment and fair pay. Nearly a half-century later, this battle continues. "After eight years of progress, we find ourselves in a new regime where the basic rights of women, immigrants, and LGBT people are being challenged," Battista laments, "Art is a hugely important tool for social change and artists have always been engaged with political conflicts." Just as the seven female artists in this show do not back down from the imposing masculine history of Minimal Art, they have no intention of shying away from bigheaded masculine personalities of the present. Instead, they create art that is more persistent than a paparazzi shot, as permanent as a memory, and much less ephemeral than a tweet.
Article by Samantha MacAvoy