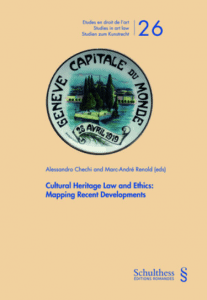 Excerpted from faculty Gareth Fletcher's chapter in Cultural Heritage Law and Ethics: Mapping Recent Developments (edited by Alessandro Chechi and Marc-André Renold and published by Shulthess), the following is one of three case studies Fletcher uses to gauge the market's response to provenance information for objects sold at auction.
Download the full chapter for more from Fletcher's essay, "Scores on the Doors: Establishing a Certificate of Virtue Framework for Future Art Market Regulation."
---
In 2011, after 165 years in business, the eminent Knoedler Gallery in New York ceased trading as a result of ongoing legal proceedings. As an important proponent of the Abstract Expressionist movement, the Knoedler Gallery was accused of acting as a conduit for forgeries purporting to be original works from artists such as Mark Rothko, Robert Motherwell and Willem de Kooning between 1994 and 2008.
As one of the oldest and most established galleries in New York, the integrity and reputation of the Knoedler Gallery prior to 1994 was integral to its sustainability and identity. This exposure to allegations of wilful duplicity and misrepresentation of works acquired through the gallery has had a negative impact on the reputation of the art market, and has also increased the number of claims alleging the handling of inauthentic works.
There are many legitimate reasons for market participants to insist on discretion throughout the transaction process, however, this discretion can also result in the asymmetry of meaningful information between buyer, intermediary and seller. An analysis of the provenance record for Torso of a Man (1965) by Willem de Kooning, offered for sale at Sotheby's in early 2016, provides an opportunity to consider the potential impact of this informational asymmetry on a work's market performance.
The work was consigned for sale from a private collection in New York, prior to which it was owned or transferred through Lang and O'Hara Gallery in New York from M. Knoedler & Co., who had originally acquired it from a private collection. As no dates were associated with this provenance information and Lang and O'Hara Gallery is no longer trading, a prospective purchaser would benefit from knowing whether the painting had been acquired from Knoedler & Co. prior to 1994. As the authenticity of Abstract Expressionist works previously transacted through the gallery remains under scrutiny, a potential buyer would be particularly reliant on the due diligence conducted by the auction house throughout the consignment process.
In this particular circumstance, the auction house indicated that it also had an ownership interest in the lot, which eventually achieved a hammer price of $130,000; $20,000 below the pre-sale low estimate of $150,000. The imprecise provenance information supplied to the market prior to auction may have had a material effect on its performance at auction, as the symbolic resonance of the Knoedler brand continues to the present day to receive scrutiny from art market participants.
Excerpted from: Fletcher, Gareth. "Scores on the Doors: Establishing a Certificate of Virtue Framework for Future Art Market Regulation." Studies in Art Law 26 (2017).
---
To download this chapter in its entirety, click here.
Study with Gareth this summer and dive into the unique world of art-related crime.
---
Gareth Fletcher is a Lecturer in the MA in Art Business Program at Sotheby's Institute of Art-London. He is Co-Unit Leader of the Art Business, Foundations and Placement semester course, leader of the Art Crime and Art and its Markets summer study courses. He also lectures on Strategy and Risk Management as part of the Business Management in the Art World Executive Education program; Strategic Planning as part of the Business Management of an Art Gallery program, and the Contemporary Art Market as part of the Frieze Art Fair: Contemporary Art Today program. He has received a TECHNE AHRC scholarship to pursue his PhD examining the semiotics of provenance as institutional construct in the establishment of cultural and economic value in the market for Near Eastern antiquities. He received his MA, Sotheby's Institute of Art, London; his BFA and BA from University of Canterbury, New Zealand.