Colloquium #7: East Asian Art - Speaker Bios
Speakers
---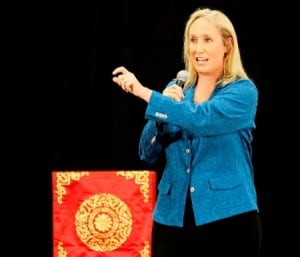 Susan Pertel Jain, Executive Director of Confucius Institute of UCLA
Susan Pertel Jain holds a bachelor's degree in Chinese language and a doctorate from the University of Hawaï in Theater (Asian theater focus). Dr. Jain has worked in both the academic and professional theater worlds, taught and lectured widely on Asian theater, and served on the curatorial staff of several international arts festivals including the Los Angeles Festival, Silk Road Festival (Washington, DC), and the International Festival of Arts and Ideas (New Haven).   In partnership with kunqu artist Hua Wenyi, she helped launch the first professional Chinese theater company in the US.  
In her role as the Director of Academic Development for UCLA's Office of Summer Sessions and Special Programs, she worked with campus partners to develop innovative new credit- and non-credit bearing programs that served both domestic and international students. In 2007 Dr. Jain helped open the UCLA Confucius Institute. Under her leadership the Confucius Institute has been connecting the dots, filling the gaps, and tapping into the tremendous resources available at UCLA and in our community for the study of Chinese language and culture.
In 2011 the UCLA CI was named an "Outstanding Confucius Institute" among over 450 worldwide. In 2012 Dr. Jain received the"Outstanding Confucius Institute Director" award.
---
Marc Richards, Collector of Asian contemporary art and Owner, Marc Richards Gallery
Marc Richards was born in Bronx, NY. He graduated from U.C.L.A. with B.A. in Political Science, and then set out on a trip to Europe, North Africa, and overland from Istanbul to India where he fell in love with the Ancient World, the smells, the colors, the markets, the food, and the historical monuments. He became a trader in ancient beads, textiles, and artifacts. In 1979, he opened an Asian Art Gallery in Los Angeles, importing art and antiques from India, Indonesia, Nepal, and H.K, and ten years later, opened Marc Richards Gallery, representing local artists including Mary Corse and John Millei.
During many trips to Asia, Richards began importing ancient Chinese pottery, and befriended Manfred Schoeni in Hong Kong, the first Western dealer to exhibit the emerging artists from Beijing. He started collecting Chinese contemporary art, including Zhang Xiao Gang, Wang Guangxi, and Liu Wei, all of whom he still has in his collection, and more recently he started collecting emerging Western art. Since 2014, Richards has been moderating a series of art panels in L.A., interviewing prominent collectors and dealers, including Dean Valentine, Cliff Einstein, Tim Blum, and David Kordansky. He is best described as a traveler, explorer, treasure hunter, seeker of truth, and passionate appreciator of art and beauty.
---
Melanie Ouyang Lum, Art Advisor and Art Basel VIP Consultant
Melanie facilitates the dialogue between China and America through multidimensional collaborations with various arts and culture institutions. She is based in Los Angles and Shanghai and has curated shows of Chinese artists for notable galleries such as James Cohan Gallery, Marlborough Gallery and RH Contemporary Art.
Furthermore, she is deeply involved with several American museums for which she has secured funding and donations of Chinese contemporary artworks. Equally committed to Chinese museums, she brokered the deal of the Rain Room for the YUZ Museum Shanghai and is developing partnerships between Chinese private museums and American institutions. These collaborations illustrate her deep connections to Asian art communities in the US and beyond.
---
Virginia Moon, Assistant Curator of Korean Art, LACMA