Commencement Welcome Address
Sotheby's Institute of Art-New York Class of 2018
By Christine Kuan, Director/CEO, Sotheby's Institute-NY
March 29, 2019
---
Friends, family, art lovers, and Class of 2018, it is my honor as Director/CEO of Sotheby's Institute of Art to welcome you all to the Sotheby's Institute of Art-New York Commencement Ceremonies.
It is amazing to be here today on the Institute's 50th anniversary year and Sotheby's 275th anniversary year to celebrate the achievements of our future art market leaders and cultural stewards.
Class of 2018, I know you've worked extremely hard to get here. Many of you have slogged through financial models in Principles of Business, studied the qualities of paint in Materials and Methods, understood how to research and determine the value of artworks in Intro to Valuation, and you've all traveled far and wide from Venice to Beijing to the Netherlands and some of you even went to the most exotic place—New England.
All of you have been immersed in every facet of the international art scene and studied with countless experts, artists, and scholars.
You will leave here today to forge your way in the art world—starting with one of the most important art world activities—attending parties. The monumental Bacchanal by Bouguereau on view for this occasion drives home this point—in our relationship-driven business— a cocktail party still goes further than a Tweet.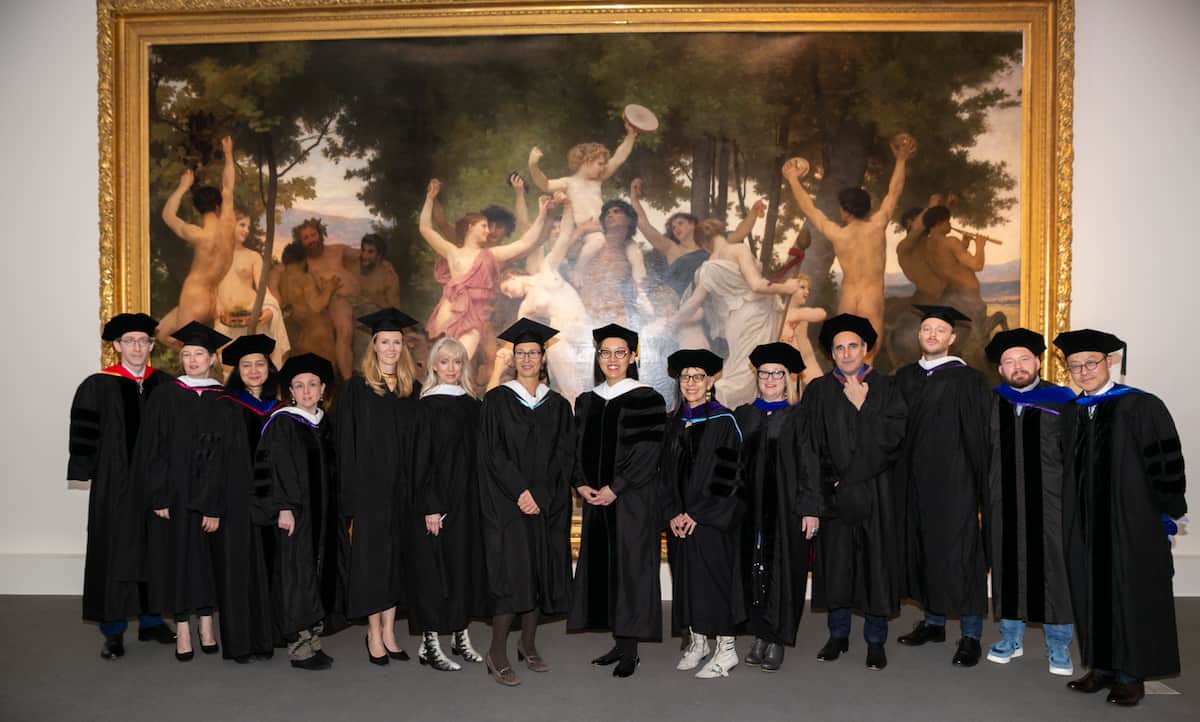 Institute faculty in front of Bouguereau's monumental "La jeunesse de Bacchus" (1884)
Besides the parties, you'll curate fascinating exhibitions, cultivate important donors and patrons, hang out with the coolest new artists, work with mega-collectors, write insightful articles and books, run the behind-the-scenes of art companies, and many of you will even start your own businesses, as our alumni are apt to do.
This is a new beginning for you, Class of 2018, and all of us at the Institute support you, not only as students, but wherever your careers may take you. All of us—faculty and staff—are always so proud to hear of our graduates who come back to tell us they've been promoted because of the skills they've acquired in our courses, or one of our alumni has hired a recent graduate via our Career Services and Alumni Relations.
All of you are now part of this extraordinary network of art world professionals. You have close bonds with all of the faculty, staff, with each other, and your contacts will continue to grow as our international alumni surpass 8,000 art market professionals worldwide.
Today, I wanted to leave you with one thought that I hope you will carry with you throughout the rest of your career, and that is, despite what many people may think about art being a marginal field of study—I believe differently—I believe art is the center.
Art is the way that we can know and understand our past—from the Colosseum and the Great Wall of China, to Mayan pyramids and Benin masks.
Art is also the way we can see into the future—from Duchamp's ready-mades predicting the inevitability of mass production, to Warhol's Marilyn foretelling our obsession with celebrity culture, to Judy Chicago's Dinner Party which announced the rising tide of feminism, to more recently, Olafur Eliasson's Ice Watch where huge chunks of Greenland ice are left to melt in the city centers of Paris and London—reminding us that our actions impact the planet.
Art is at the center of culture and of our humanity. Art enables us to understand each other, to embrace diversity and difference, and to challenge the norm and to explore new ideas.
Working in the art market gives us a tremendous responsibility and power to shape not only our own reputations and careers, but also the destinies of artists and artworks, and culture itself. So, I encourage you to take the responsibility of working in the art world seriously.
And as you become more successful, I also encourage you to give back to your community, to share your knowledge and expertise with colleagues and friends. We also welcome you to come back to the Institute to mentor other up and coming art world professionals.
Whatever you do in the art world, whether raising funds for a new capital campaign, helping a collector add a new work to her permanent collection, or simply taking a friend to a gallery—you are working in the field of culture, you are making culture, and you are doing important work!
For the Institute, today is the most important day of the year because today we have fulfilled our mission to help advance your careers as a new generation of art world professionals and cultural stewards.
Class of 2018, I hope you feel an immense pride in your accomplishment at having studied at the Institute, cultivated an expansive network of friends and colleagues, and learned about this captivating industry from artists, scholars, and market experts.
We are proud of what you've achieved in graduate school in pursuing your passion for art. On behalf of the Institute, we want to thank the friends and families who encouraged you to embark on this journey, and for their belief, as it is our belief, in your ability to impact the future of art and culture.
I want you all to know, all of us at the Institute offer you our enduring support wherever the art world takes you.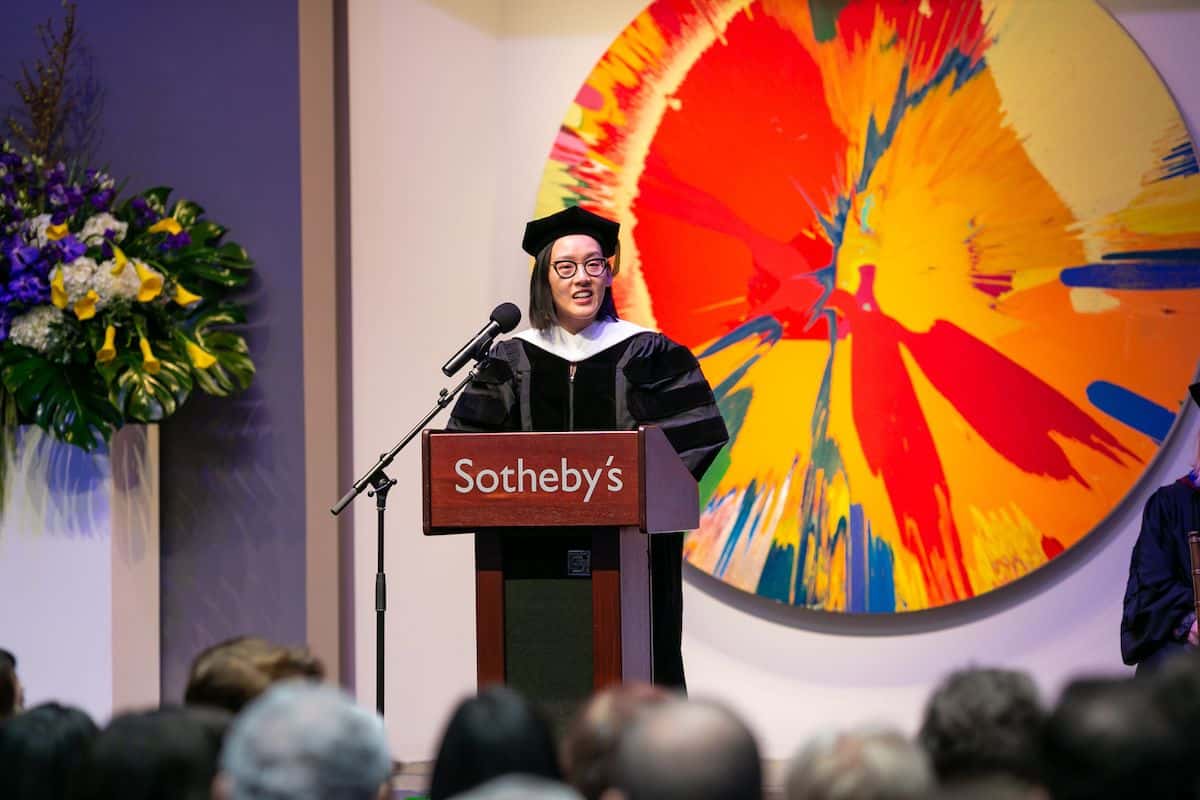 Christine Kuan (Director/CEO, Sotheby's Institute-NY) addresses the Class of 2018.