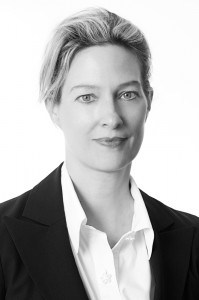 In a world ruled by technology, our perception of objects can often stretch only as far as the computer or smart phone screen will allow. In the world of Fine and Decorative Art and Design at Sotheby's Institute in New York, the newly appointed Program Director, Ann-Marie Richard, wants students' perception of objects—from different eras, cultures, asset categories, and uses—to be built upon an unparalleled, well-versed foundation of knowledge and skills.
With a background that includes a premier global education and valuation experience, Ann-Marie's own lifelong dedication to the field can only be described as the mark of a true master. We sat down with Ann-Marie in her office—a space carefully curated with utilitarian and decorative objects from Old Masters and contemporary craftsmen—to learn more about her own path to mastery and what she hopes to impart on the graduates of the program.
Destined from the start
"I was born in the trade" is how Ann-Marie begins the story of her career trajectory. Her grandfather was a collector involved in the import of fine decorative arts. Her home resembled a 19th century interior. Her initial training was fueled by her surroundings, where almost every object had a story. "I was always very curious to know what I was eating from, drinking from, sitting on, and how all these decorative patterns came to be." The seed of curiosity planted in Ann-Marie's childhood developed into the determination to learn more in adulthood, and she set off on the path to receive an international, comprehensive education in the industry.
A global path to mastery
The first stop on Ann-Marie's quest for training was Sotheby's Institute in London. "It really changed everything for me," she recalls. "I was able to learn categories that I would have never had the chance to inspect in the past." This included everything from Chinese ceramics and Georgian furniture, to Medieval Ivory and Islamic works of art. But this was just the beginning. Ann-Marie's access to knowledge and primary source material continued around the globe: a Master's at Parsons (in conjunction with the Cooper-Hewitt National Museum), a Smithsonian fellowship to the Ashmolean Museum in Oxford, a course in architecture and interior design in Paris, the education department at the Metropolitan Museum of Art, and work at a valuation firm in New York City that sent her out into top museums, galleries, and private collections. When it comes to Fine and Decorative Art and Design, Ann-Marie has covered it all. But what exactly is it?
It all begins with the line
Objects found in cabinets of curiosities, tables that turn into staircases, misshapen pearls, Italian Renaissance Maiolica, antique and rare jewelry, Old Masters and Contemporary Artisans—all are included in the vast and seemingly overwhelming field of Fine and Decorative Art and Design. But when Ann-Marie explains it, the fog is replaced with elegant clarity. "At the end of the day, they're all related by one thing, which is the line. From the painting to the print to the piece of silver, furniture, glass, or ceramic: it's all related." Drawing, then, is where it all begins. And drawing is at the core of the program that Ann-Marie oversees. "[At Sotheby's Institute] we study drawings, patterns, and motifs to understand how an object is made and the provenance, what impacts the history of ownership and valuation. We analyze design in the context of historical ideas."
The field that keeps on giving
"It's always the discovery, I never know what I'm going to be looking at, I never know what I'm going to rediscover." This, as Ann-Marie explains, is part of the fuel that feeds her continuous passion for the field. And the other part that inspires her on a daily basis? "I really love to teach and to share the knowledge and to hear the feedback from students. That's what I love about this position: sharing and learning through the students."
As for the program, the needs of the students are at the core of what it provides and how it will continue to develop. Ann-Marie wants to ensure the graduates are equipped with well-informed valuation skills and strong knowledge of the art market, including high asset categories of artwork from jewelry to Asian Art, which will set them apart from the competition.
But if you had to choose…
After learning about Ann-Marie's vast knowledge base and firsthand, international experience with countless objects, we just had to know: does she have a favorite? "Oh it's like picking a favorite child, you can't really do that. I love innovations of the 18th century. I love the designs of Christopher Dresser—they're very advanced for the 19th century. I love ceramics. I love paintings. I can't say I really have a favorite area. I love it all!"
Written by Alina Girschovich
Featured image: Christopher Dresser tea set