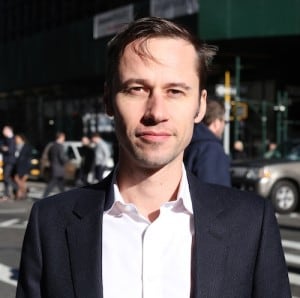 Maxime Van Melkebeke, a native Belgian who now calls New York City home, can't get enough of the art world. He works full time at Skarstedt gallery in New York and curates Offspace.xyz, an online project space that brings contemporary art shows to international viewers in real time. Van Melkebeke's innovative exhibitions, which have featured renowned artists such as Robin Cameron, Tomaso De Luca, and Anouk Kruithof, reach viewers in over 40 countries. When he's not presenting groundbreaking shows on a global stage, Van Melkebeke visits artists' studios, connects with international artists, and writes for upcoming shows. He soaks up all that the New York contemporary art scene has to offer, attending artists' talks and opening receptions. The endless intrigue of the art world fascinates him, and his various creative projects have morphed into a solid career: "It all fits together seamlessly. I see each project as a separate channel for distributing and showing art. I'm not sure if it all comes together in a specific way, it's more like a flow," Van Melkebeke explains. Contemporary art is the continuity in Van Melkebeke's boundless, strategically-driven career. He can't wait to find out what happens next.
The path that led Van Melkebeke to his vibrant profession immersed him in the world's most exciting art scenes. Growing up, he traveled to fine arts museums around Europe and ancient ruins in Italy and Greece first inspired his artistic awareness.
He studied economics in college and graduated with a Bachelor's Degree, followed by a Master's Degree in Business Administration and Applied Economics. He then went on to becoming a highly acclaimed digital project manager working with Saatchi and Saatchi Brussels, The European Commission, HP, and other globally renowned organizations.
After 6 years working in digital strategy, he decided to pursue further education in his passion: "I guess some urges do surface over time, so when I learned about Sotheby's Institute of Art, I knew this would be a chance to start a new chapter in my life, as I was already dabbling in gallery projects, but had no 'real' knowledge of the art world, its inner mechanism, and art history." This industry outsider would soon become an art world pioneer. Van Melkebeke started by taking a semester course at Sotheby's Institute in London, then declined a job offer at a gallery in Belgium to move to New York and do his Masters in Contemporary Art.
---
"I feel part of something bigger, creating something new, being part of the present and the future."
---
A Stay in the Paphos Loop, a group show curated by Maxime Van Melkebeke, Sept-Oct 2016. On view: Benoit Platéus (screenshot) - courtesy of Offspace.xyz
Van Melkebeke has lived in New York for three years, and has no plans to leave the city's exhilarating art scene any time soon. Through his job at Skarstedt gallery, he has met people that he used to only read about, he has worked with artists he admires, and he regularly exchanges ideas and sets up projects with prominent collectors and curators. These encounters are the most rewarding aspects of Van Melkebeke's career: "It gives me a sense of purpose and fulfillment that I wasn't able to find in other jobs. You feel part of something bigger, creating something new, being part of the present and the future."
Van Melkebeke says his next steps involve more projects with Offspace.xyz and several curatorial ventures. He will also broadcast a solo project with Lotte Rose Kjaer Skau in a studio in Copenhagen and co-curate a solo show of paintings and photographs by the young artist Lisse Declercq in an apartment gallery. The enticing tumult of the art world inspires Van Melkebeke to make culture every day, and to share the bold statements of the world's most creative voices with an international audience. His career takes him across borders, introduces him to different perspectives, and deviates from a traditional professional roadmap. Van Melkebeke doesn't always know exactly where he's going next, but he knows that his various professional pursuits are moving him in the right direction.
By Samantha MacAvoy
* Top image: Ilana Savdie, Facewaver (Pink) No. 1, 2015. Oil on canvas, 48 x 46 in. (121.9 x 116.8 cm).  - courtesy of Offspace.xyz