Old and New cross-collecting practices, by David Bellingham
Since the start of the new millennium, there has been an increase in cross-collecting (sometimes called 'cross-over buying'). This might seem like a recent phenomenon according to what we witness in both public sector exhibitions, commercial galleries and their art fair stands. However, the practice has been around since antiquity. Archaeological excavations have discovered sculptural programmes in the gardens of ancient Romans which attest to the fashion for displaying art from various earlier periods, mingling shoulder-to-shoulder with contemporary works. The wealthier residents of Pompeii and Herculaneum, buried by the eruption of the volcano Vesuvius in AD 79, would mix works of the archaic, classical and hellenistic periods (spanning the seven preceding centuries), although in this case they were mainly replicas of famous originals, as well as contemporary works imitating the earlier styles. The wholesale looting by Roman armies of the art collections of Greek cities, led to mixed displays of original works from different periods in the public galleries and porticoes of Imperial Rome, creating an effect not unlike the controversial synchronic displays of Tate Modern when it opened in 2000, thus stimulating the new millennial fashion for cross-collecting.  
Likewise, Renaissance collectors not only displayed rediscovered ancient Greco-Roman art alongside contemporary sculptures and paintings by the likes of Donatello and Botticelli, they also cross-collected rare books and manuscripts which had survived from the antique and mediaeval periods, considering them of equal status to fine art. In the eighteenth century, this custom of mixing antique and modern styles continued, and was further cross-fertilized by a new mania for collecting natural objects from all over the world, as evidenced in the core collection of the British Museum originally acquired by Sir Hans Sloane. The growth of the British Empire in the Georgian period provided a further stimulus to the cross-collecting and mixed display of both cultural and natural objects, often displayed as 'Cabinets of Curiosities.  
Cross-collecting began to diminish in the nineteenth century with the increase in the scientific study of nature, with its categorising tendencies, as well as the development of art histories which began to group previously muddled objects into their respective chronological periods and genres. This was pioneered by public sector museums, with their divisions into Natural History, Science, Geology, Anthropology, and Antique and Modern Art. Twentieth-century collectors tended to follow these categories by buying works from a single sector or of a certain style, such as Old Masters, Contemporary (e.g. from living artists) or Baroque paintings.
---
"Contemporary cross-collecting reflects the increasing crossovers between the financial world and the art market, with the creation of a mixed art collection mirroring the hedge fund portfolio: when one sector is underperforming, others tend to excel."
---
In the public sector, there have been several key exhibitions which have juxtaposed contemporary and older art, creating modern interventions into the discourses of earlier periods. In 2008, the British Museum staged Statuephilia in which work by living British artists was sited within and amongst antiquities or within old-fashioned display cases (Damien Hirst's multi-coloured skulls). The visitor was greeted by an earlier version of Anthony Gormley's Angel of the North, Case for an Angel I (1989) which thus brought together northern England and the metropolis, but also referred to the winged mythological sculptures of the Egyptian, Mesopotamian and Greco-Roman galleries. Marc Quinn's Siren, a solid-gold version of a series of portraits of fashion icon Kate Moss in a difficult yogic pose, was inspired by the artist's visit to the Tutankhamun exhibition when he was a boy. Its gold referenced the precious metal used by ancient jewelers for objects scattered across the museum, whilst its position in the Nereid Room produced a site-specific dialogue between the contemporary 'siren' and the ancient sea-nymphs, one in a leotard, the others in sea-drenched clinging drapery.
Similarly the National Gallery's Metamorphosis: Titian 2012 not only celebrated the public purchase for £90 million pound of two Titian mythologies, but invited three other British artists to display works in adjacent rooms, once again creating a dialogue between old and new art.  The exhibition also included ballet and poetry projects.
These recent public exhibitions have reflected the commercial art world's success in promoting cross-collecting. Pioneering dealers include Belgium's Axel Verwoordt, whose booths at TEFAF and Masterpiece art fairs have been mixing ancient and modern art with furniture, design and even fossils, since the early millennium. They have led the way in inspiring private collectors to 'discover and transmit what is beautiful', whatever it is and wherever and whenever it is from. In 2011, Pilar Ordovas launched her new Savile Row contemporary gallery with a mixed show of Rembrandt and Francis Bacon, whilst in the same year Dulwich Picture Gallery dared to show the Arcadian links between Poussin and Cy Twombly.
Contemporary cross-collecting also reflects the increasing crossovers between the financial world and the art market, with the creation of a mixed art collection mirroring the hedge fund portfolio: when one sector is underperforming, others tend to excel. Italian old master dealers have recently begun to sell post-war masters such as Lucio Fontana alongside their Belottos and Canalettos in order to profit from the upsurge of sales caused by the Italian 50-year heritage law, whereby important works of art may not leave Italy without an export license once they are 50 or more years old. A similar law has just been introduced in Germany, and one antiquities dealer at Frieze Masters told me that truckloads of antiquities and old masters have recently left Germany for the London art market!
Visitors to the recent Frieze Masters London were immediately confronted by the combined exhibition of modern/contemporary dealer Hauser & Wirth and Italian old master dealer Moretti for the second year running. Clearly cross-collecting is here to stay.
---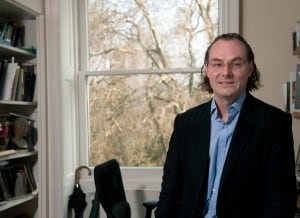 Dr. David Bellingham is Programme Director for the Masters Degree in Art Business at Sotheby's Institute of Art. He holds a doctorate from the University of Manchester for his thesis on the cultural and socio-economic aspects of sympotic scenes in ancient Roman wall-painting.  David has published books and articles on: art fairs; art business ethics; Greek & Celtic mythology; the art market for classical sculpture and frescoes; the paintings of Sandro Botticelli; and authenticity issues in the paintings of Frans Hals.  Active in art world discourse, in 2015 David participated in a panel on contemporary art and human rights at Gazelli Art House; and introduced the ethical theme of the London Art Business conference.  In 2016 David delivered a paper at the University of Maastricht on the ethical and legal issues involved in selling art from English country houses.  He is currently writing a monograph on Ethics and the Art Market.