Can you briefly introduce yourself?
I am Elle and I have a startup trading business between Hong Kong and London called Blooms Tea. We focus on pop up events around Hong Kong and China, selling European antiques, porcelain and bone china. Beyond selling physical products, we also bring workshops and events to bridge the East and West through art, culture, and design. The business may be small but it is happily growing, gaining media and market recognition. I am currently spending my time between Hong Kong and London, enjoying the quirks of the busiest cities in the world.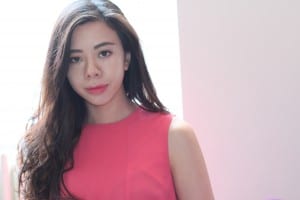 Where did it all begin for you? How did you develop a passion for art?
I did my MA in Product Design, so I came from a practitioner point of view. I then started to work for an Innovation Agency in London that deals with multinational brands. It was great to gain insight on design and its market, but my real passion lies in antiques. I have been collecting antique and vintage bone china since I was fifteen as a family hobby and I have now accumulated an estimated 15,000 pieces in Hong Kong! One day I would love to hold an exhibition.
What has been the most rewarding moment in your career so far?
Seeing my pop ups materialize. From blueprint to having the first customer walking through the doors. It may sound simple, but when I meet clients that show genuine interest towards my projects and items, it is the most wonderful feeling. Although I enjoy the business and entrepreneurial side of things, it does not compare to my enthusiasm for art and design. The creativity and ingenuity makes my everyday work so rewarding.
What are the biggest challenges you have overcome? Is there a particular moment you recall that you want to share?
Starting your own business, you will meet multiple challenges and you just learn to deal with it! It is my first time starting something, so I always ask for advice from those who have succeeded before me. I understand that I am not an expert in running a business, so I am not shy to ask.
What upcoming projects are you working on, and what are you planning to do in the future?
I will be returning to Hong Kong in May for a few pop ups and events in collaboration with other brands. I'll then host a series of 'curated travel experiences', taking my clients from Asia to England. This is an extension of Blooms Tea. In October, I will take part in a one month pop up with a fellow Sotheby's Institute graduate bringing 18th/19th Century Viennese antiques to Hong Kong and Shanghai.
What made you decide to study at Sotheby's Institute of Art?
I have always known Sotheby's as a top game player in the industry and there was no debate that I would choose to develop my passion for the Decorative Arts anywhere other than here!
How would you describe your experience at Sotheby's Institute, and how did taking the Semester course in Decorative Art and Design at the Institute play a role in your professional career?
I worked hard to take in as much as I could in a short period. What made the experience special was meeting such diverse peers and lectures. Our tutor Lis Bogdan was the most inspiring. I have kept in contact with all my classmates and even worked with a couple of them on a professional level.
What are your recommendations for future students who join Sotheby's Institute?
It is a lucrative industry so you must be commercially savvy. Outside of the classroom, network as much as you can. There are so many wonderful minds who have come together, chasing their passion, so why not try to start something innovative together? The art scene is changing fast and there are many new channels to be explored. It's a no brainer to me. Work on your strengths. I knew my dual nationality was different and saw a market gap in Hong Kong and China. Everyone has their strengths and unique backgrounds to build on! Lastly but most importantly, just do what you love!