Ruth Millington, Head of Careers at Sotheby's Institute of Art-London and author of Muse, shares an excerpt from her new book about artistic muses. Read below about Emilie Flöge, the subject and inspiration behind one of art history's most beloved paintings, Gustav Klimt's The Kiss.
---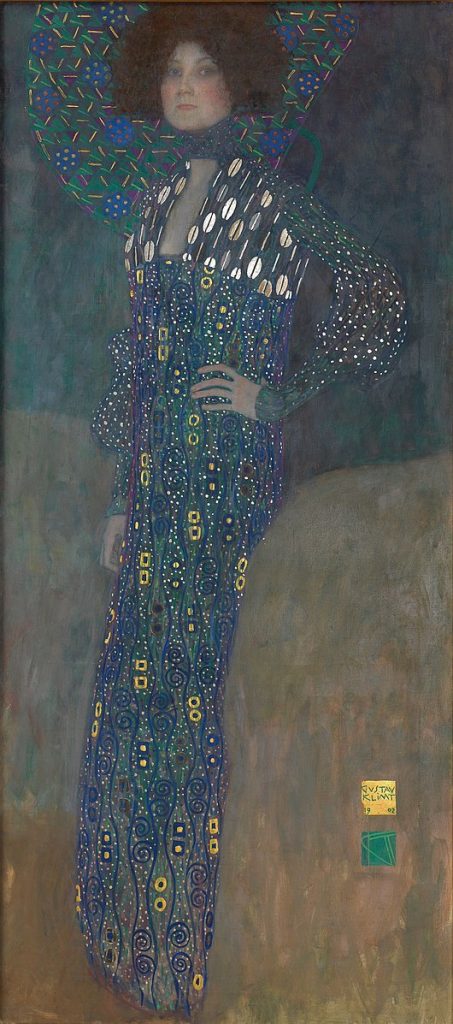 Gustav Klimt's The Kiss (1907–8) has been reproduced countless times – on Valentine's Day cards, mugs and posters hung on bedroom walls. Evoking intimacy, the image is held up in celebration of an idealized romance between a man and woman. But could there be more to this masterpiece than an allegory of love? Who is the couple, and what is the significance of their shimmering, mosaic-like robes?
From the start of his career, Klimt had an interest in the decorative arts and studied at the School of Applied Arts. However, the importance of fashion in Klimt's work must also be attributed to one particular woman, who has been overlooked in many of art history's narratives: Emilie Flöge.
Flöge appears in an early pastel portrait by Klimt, titled simply Emilie Flöge, Aged 17, from 1891, in which she wears a white gown and delicate tiara in her pinned-back hair; with her face in profile, she stares away from the artist, who seems to be keeping a respectful, although admiring, distance from his new muse, whom he had recently met. Earlier that year Klimt's younger brother, Ernst, had married Helene Flöge. Following the wedding, the artist became a frequent guest at the Flöges' family home, where he met Helene's youngest sister, Emilie.
But it wasn't just family ties which drew Klimt to Flöge: aged seventeen, she was already a talented seamstress and aspiring fashion designer. When the Wiener Werkstätte – an alliance of artists and designers – was founded in 1903, Klimt and Flöge became members. Both wanted contemporary art to infiltrate every area of life, from furniture to fashion, and promoted the concept of the Gesamtkunstwerk or total work of art – Klimt through his paintings and Flöge in her progressive dress designs.
Flöge took a leading role in rethinking women's dress for the modern age, designing garments in the style of the new 'reform dress'. With wide sleeves and an empire waist, it was intended to free women's bodies from the traditionally restrictive corset which physically prevented them from fully participating in society. Instead, this easy-to-wear, flowing robe both allowed for, and celebrated, the bodily liberation of women.
Although at the turn of the century in Vienna unmarried middle-class women could forge their own careers, Flöge embarked on what would have been considered an unusual venture. In 1904, with her two sisters, she opened a fashion house and shop called Schwestern Flöge, located on Vienna's bustling Mariahilfer Strasse. The youngest sister not only sewed and designed garments but directed the whole fashion house, which became well-known for its range of non-conforming reform dresses.
Welcoming the women of Viennese high society into Schwestern Flöge, Flöge dressed them in her haute-couture designs for which she took inspiration from an extensive personal collection of folk art and festival dress which she exhibited in the store. The bold colors, symbolic shapes and geometric patterns of these pieces not only informed her own creations, but also appear in the paintings of Klimt.
In marked contrast to her first formal portrait by Klimt, in Emilie Flöge (1902) the designer, now aged twenty-eight, models one of her own creations – the long blue-mottled robe, embellished with purple spirals, white dots and gold squares, falls to her feet. Exuding confidence, she holds one hand defiantly on her hip, while staring straight at the artist. (Refer to the image above)
From this point onwards, Klimt's relationship with fashion dominates his paintings. The pair started to collaborate on a range of dresses: taking inspiration from her collection of folk art, as well as stage costumes, kimonos and kaftans, Klimt created designs which Flöge then sewed in her workshop. Numerous photographs show the pair dressed in long reform robes embroidered in their designs; mirroring one another, Klimt and Flöge appear as artistic companions.
At the Schwestern Flöge store, the designer also introduced Klimt to wealthy heiress clients who were all keen to have their portraits painted by him; among them was Adele Bloch-Bauer, who sat for the iconic painting The Woman in Gold (1907), in which she appears empowered, in a golden dress, upon a throne.
While Flöge provided Klimt with female models, Klimt promoted Flöge's salon to his circle of patrons; his paintings of high-society women, whom he elevated to the status of icons in Flöge's designs, were surely the best advertisements she could have wished for. Moreover, Klimt's paintings validated her avant-garde creations as furthering the freedoms of women.
The same year that Klimt painted Bloch-Bauer as The Woman in Gold, he created The Kiss, which many believe to represent the artist and his main muse, Flöge. Given  their embracing pose, the painting invites questions about the  exact nature of the pair's relationship – we know that they were close friends and collaborators for twenty-six years. But did Klimt and his muse also enter into a romantic partnership?
Between 1897 and 1913 Klimt wrote around four hundred letters and postcards to Flöge, which present them as close companions. In short notes, Klimt invites Flöge to attend plays, operas and concerts with him. However, Klimt never addresses Flöge in romantic terms, and uses surprisingly formal salutations and sign-offs: 'Sincerely Gustav', 'Sincerest greetings' and 'Sincere best wishes'.
Moreover, if you look closely at The Kiss, the woman turns away slightly from the man's embrace, offering only her cheek up for his lips. Perhaps the painting shows us that it was Flöge who wanted to remain friends and thus keep her independence. She would visit London and Paris several times each year in order to attend trade shows, source fabrics and accessories, and to keep up to date with new fashion trends. Marriage would have compromised her career, since most married women at this time were expected to prioritize home life and  husbands over work.
It is impossible to know the exact nature of the relationship between Klimt and Flöge, and The Kiss cannot be used as evidence for their romance. What is clear, however, is the respect, mutual admiration and commitment which they felt towards one another. Dressed in Flöge's designs, the two appear bound together, oblivious to all else.
Following the Nazi invasion of Austria, Flöge was forced to close her salon in 1938. Nevertheless, she maintained  behind its bolted doors a 'Klimt room', in which she kept the artist's easel, drawings and a collection of his gowns, protecting the treasured memories of their life together. By this time Klimt had died, suffering a stroke in 1918; his last words reportedly were 'Get Flöge.'
Interested in purchasing the book? Click here.