Nicole Bray is the founder of Mercer Contemporary. From the bedroom to the boardroom she curates artwork to reflect the vision of private, corporate and non-profit clients and steers them through the exciting process of procuring, deaccessioning, managing, and displaying artwork. Having graduated from the Contemporary Art MA program at Sotheby's Institute of Art-New York, she has developed a keen eye for both established and emerging artists, and why their work is worthy of consideration or collecting. Here are four contemporary artists to keep an eye on, according to Nicole.
---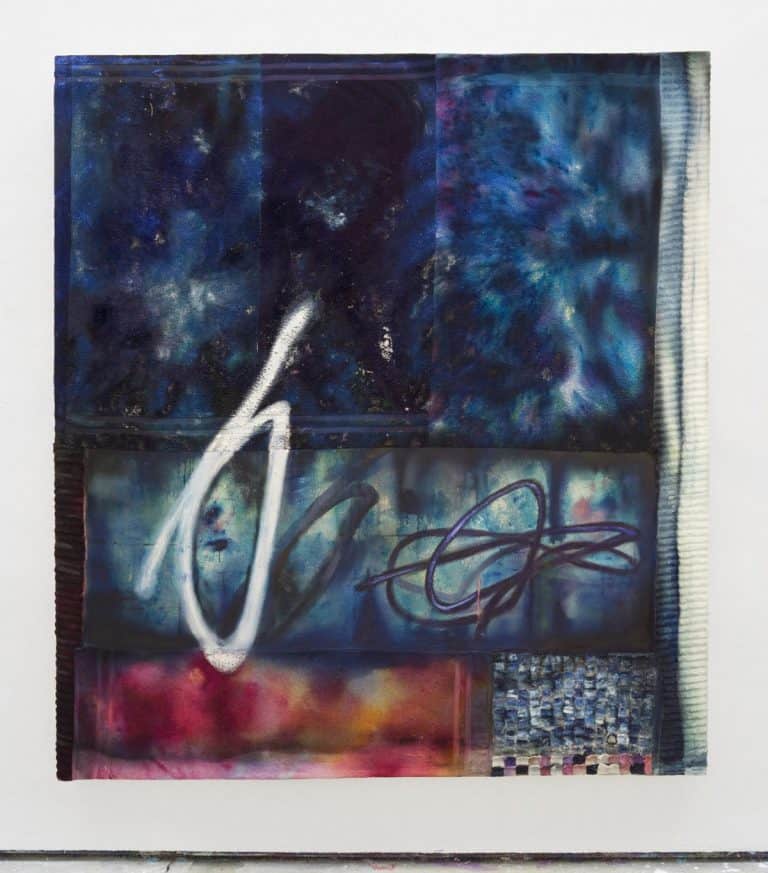 Vaughn Spann, The Conjuring, 2017-2018
Vaughn Spann: A Rising Star of Materiality and Abstraction
When confronted with Vaughn Spann's work there is an immediate intrigue into the compositional delicacies between the figurative and abstraction. Rich with textures, color and subject matter, he seeks to contribute to the dialogue of the black experience which was once written out of the Art History books. Historically, cultures have been valued on the perceived importance of their art, and there was once a time when no one believed in the value of work made by black artists. Contributing to this critical social and art historical narrative is a central intent and theme running through Spann's work.
Physicality and materiality sit at the heart of his abstract works. Experimenting with twine, fabric, spray paint, oil paint, resin, plastilina, and paper, to name only a few, he creates luscious reliefs that combine painting as sculpture. Roused by the radical spirit of David Hammons and Shanique Smith, Spann takes objects of the everyday, readily found in hardware stores or at home, and transforms their meaning through context and the introduction of other materials.
---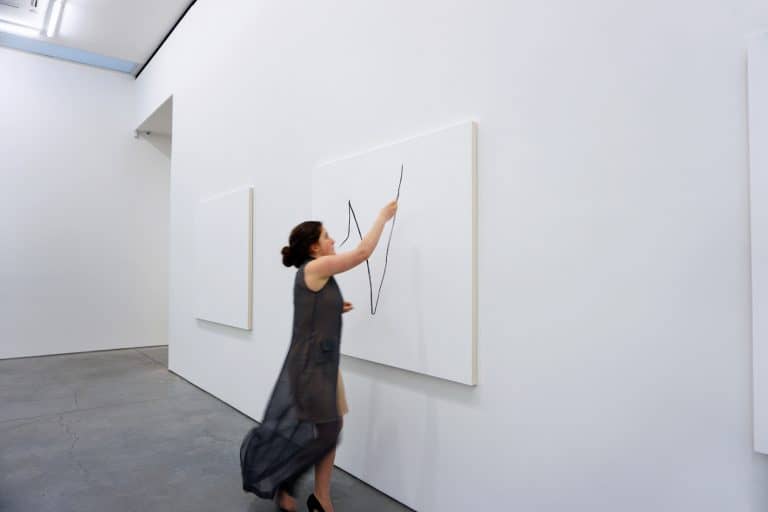 Sarah Meyohas, Stock Performance 2016. Installation views
From High Finance to High Art: Sarah Meyohas
What if an artist traded stocks online in a gallery and visualized the moves in the market on a canvas? What if an artist created a digital currency called Bitchcoin that was backed by photography assets at a fixed exchange rate of 1 Bitchcoin to 25 square inches of photographic print? What if the artist took over the desolate Bell Labs Holmdel Complex and hired temps to pick tens of thousands rose petals to be captured as digital data? This is a mere sampling of the artwork created by the phenomenal Sarah Meyohas.
Meyohas was born and raised in New York, and she's not your typical artist. At 24 years old, she has a finance degree from Wharton and started out by taking the precedential path of interning with Distressed Private Equity and Hedge Fund firms while in college. However, after completing a photographing class, her love for the arts was sparked and snowballed into her applying to Yale to complete her MFA.
Meyohas's practice examines how we conceive value, understand value, and how it's represented, traversing the world of finance and art. Her project Stock Performance 2016, comprised of her trading stocks online chosen subjectively based on their name or industry, with the goal of moving the stock price to see a visual change. Meyohas effortlessly combines the grit of finance, value and exchange with the feminine softness of flowers, the body and mythology to generate an undeniable presence of soft power.
---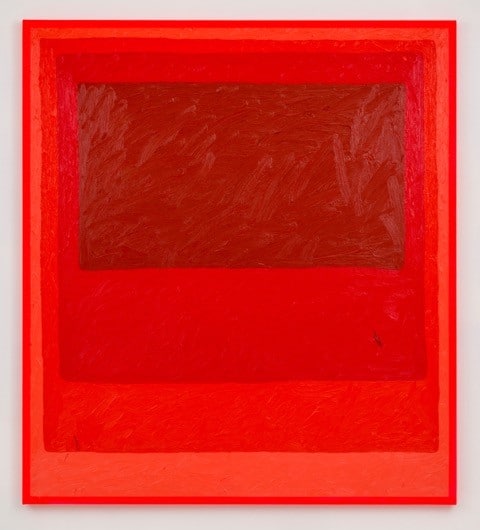 Russell Tyler, OPGP, 2016
Finding Vitality and Stillness with Russell Tyler
Walking into Russell Tyler's studio is an absolute treat for the eyes as you're greeted with an array of colorful and luscious canvases. A master of color and movement, Tyler draws upon our art historical forefathers of Abstract Expressionism, the Sublime, and Minimalism. Tyler works in three different styles, yet they all look and feel unquestionably connected: minimalist forms with expressive gestures, expressive abstraction of instinct and chance, and abstract forms derived from nature.
Tyler's minimalist paintings draw from Joseph Albers and Mark Rothko in their repetitive rectilinear forms. Where Albers was seeking perfection in the line and experimenting with color combinations, Tyler purposefully hand paints the lines so the imperfection, or wonkiness, is visible and experiments with varying shades of the same color. The subtly in the color and the repetitive forms might remind the viewer of a Rothko canvas and its meditative pull. However, the gestural brushstroke, the evidence of fingers being dragged through the paint, or a drip of contrasting color, breaks the viewers interaction and draws them in to examine the intricate evidence of the artist's hand at play.
---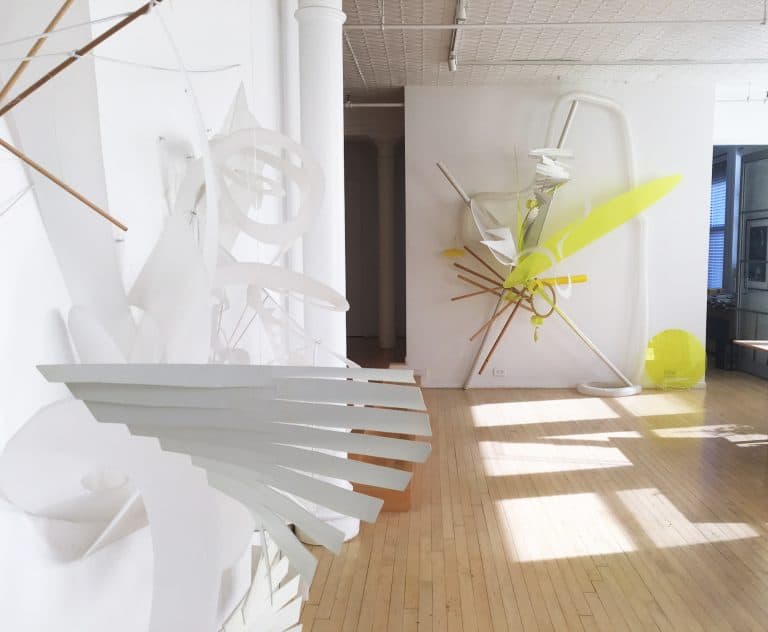 Fromartz's studio with Spano, 2002 in the background and Glide, 2002 in the foreground.
Off the Wall with Lisa Fromartz
Lisa Fromartz, lives and works surrounded by her dynamic and intricate sculptural installations, and her colorful and gestural paintings. Her allegiance to highly visual art with strong composition has remained constant throughout her career. Her desire to embrace her surroundings and absorb the cultural landscape in elegant abstraction is a signature note of her style. She takes the vocabulary of everyday objects and the mass media to create vibrant, exciting, and sensual works.
Pitching from sculpture, to collage, to photography, and painting, her work draws on the detailed messiness of life, but her skillful abstraction of the elements erases their previous meaning to produce a work that is open to interpretation each time it is encountered. This openness gives the work longevity and rewards the viewer with each encounter. Her sculptural works are incredibly playful and sophisticated in composition, as she explores and incorporates unexpected forms and materials like foam, crutches, window blinds, hair rollers, plastic, mesh and metal scraps. However, it's not until you look closely at the sculpture that the familiarity of these objects reveal themselves from the abstract. These sculptural installations and mobiles were a springboard for Fromartz to create prints, collages, and photographs, drawing on the colors, forms, fragments, and representations of the objects she had gathered from the streets.
---
Nicole Bray is the founder of Mercer Contemporary. From the bedroom to the boardroom she curates artwork to reflect the vision of private, corporate and non-profit clients and steers them through the exciting process of procuring, deaccessioning, managing, and displaying artwork. She received her Masters in Contemporary Art from Sotheby's Institute of Art-New York. She was the recipient of the Robert Rauschenberg Foundation, Emerging Curator Fellowship 2015, and has worked at both an Auction House and for a distinguished private family. If you would like to contact Nicole, or if you are interested in starting your own collection, please email her at info@mercercontemporary.com or visit mercercontemporary.com.
The above excerpts were originally published in artREAL, a publication that "aims to capture the best of art and real estate in New York through collaborations with industry influencers, presenting curated content featuring luxury real estate listings, artist spotlights, interviews with industry insiders, and related news and exclusive events that combine the two worlds in new and unexpected ways."