If you climb the precarious, but stylishly aged, spiral iron staircase at 76 Grand Street in Manhattan, you'll find Sotheby's Institute alumnae Alia Williams and Kathy Huang surrounded by a meticulously curated collection of books, working furiously to prepare for an opening. "I'm leaving for Los Angeles tomorrow to help with a new show at our LA space and our presentation at Frieze LA," said Williams, who is the New York Director of Jeffrey Deitch. "So, I'm just wrapping up a few last minute projects before I leave."
As Sotheby's Institute is celebrating its 50th anniversary this year, we wanted to highlight some of the alumni from the Master's programs who are making strides in the art world. As luck would have it, we found two of them working side by side.
Joining Jeffrey Deitch
"Funnily enough, I didn't want to work at a gallery when I was at Sotheby's Institute," said Williams, a graduate of the Master's in Art Business program in New York. She originally envisioned a career in an auction house, but her work with Deitch proved to be a game changer. "When I started working with Jeffrey, it was my first exhibition — a Kenny Scharf solo exhibition — that really changed my life." As she became more acquainted with his work, his studio, and his family — it made her realize her interest in working directly with artists. "That is what I'm most passionate about," she said. ""I realized I wanted to advocate for artist's work and present important exhibitions of that work."
At Jeffrey Deitch, her primary role is presenting exhibitions in the New York space, such as Punch (2018), curated by artist Nina Chanel Abney, as well as special art fair presentations like JR: SO CLOSE at The Armory Show (2018). "I do everything from drafting the press release and managing installation photography to shipping the work, facilitating sales, and liaising with artists and collectors." It's a position that encourages resourcefulness and versatility. "Because we have a small team I'm able to see every aspect of putting on an exhibition," she noted. "You don't get many opportunities to do that."
Huang joined Jeffrey Deitch straight after graduating from the London Institute with a Master's in Modern and Contemporary Asian Art. "I was actually writing my thesis in London when I was connected to Jeffrey," she reminisced. "We had a really good Skype conversation and he hired me at the end of the interview!" As the Director of Art Advisory, Huang assists Jeffrey with his art advisory services as well as help manage client collections. "I also planned the Ai Weiwei show that opened in LA, I'm helping with Frieze LA, and this September we're presenting a major show of early work Judy Chicago, which I'll be coordinating." The two alumni seem to have made themselves indispensable to the gallery.
Williams's favorite part of her job is getting to speak with artists about their work. "It's one thing to read about them, but to stand in front of [an artist's] painting or walk around the show while they're talking about it that is just a wonderful experience." Huang enjoys the expertise and knowledge Deitch provides. "I sit right next to him over there," she motioned to a modest desk next to the floor-to-ceiling windows. "It's very rare to be in a position where you can learn directly from someone who has almost 50 years of experience."
---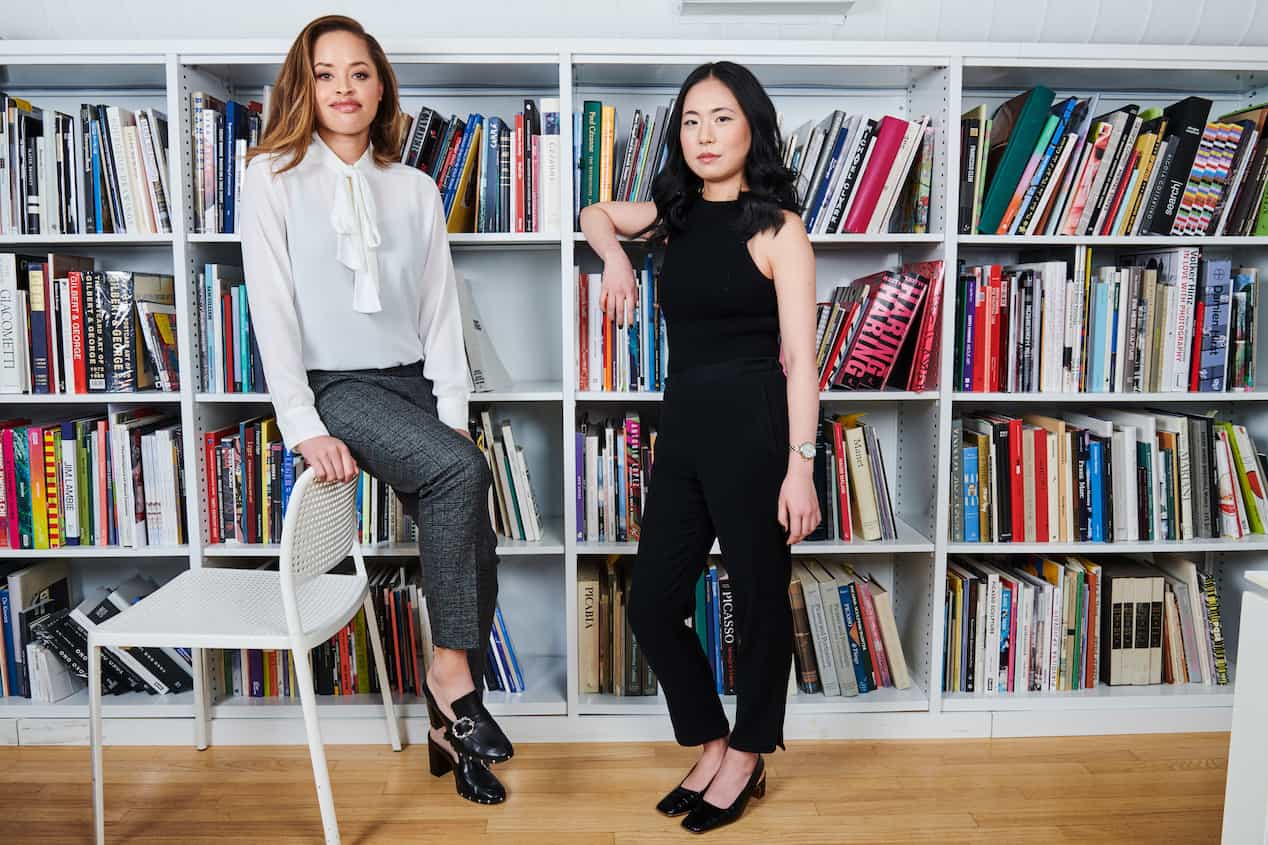 Alia Williams (alumna, MA Art Business, New York) and Kathy Huang (alumna, Modern and Contemporary Asian Art, London) at Jeffrey Deitch in New York City. Photography by Jenny Anderson
---
Entering the Art World
Neither Williams nor Huang specifically came from artistic backgrounds, but they both discovered a passion for art early on. Born and raised in Chicago, Williams wasted no time diving deeply into the field academically. She earned a BA in Art History from University of Illinois at Urbana-Champaign before pursuing her MA at Sotheby's Institute in New York. "I think I was really looking for an opening in the art world or a foot in the door," Williams said about her decision to study at the Institute. "Coming from Chicago, the art community is very different there. It's not focused on the art market or learning the behind the scenes of art world, so I was really looking for someone to educate me." Sotheby's Institute proved to be the perfect fit.
Huang was raised in Philadelphia. She earned her BA in a major of her own design (Global Art Markets) from Duke University and furthered her art market studies at our London Institute. Huang was specifically drawn to the Institute because of the robust field study travel opportunities. "At any traditional art history graduate school you might not get that kind of experience." During her spring semester, Huang and her classmates travelled to Beijing, Shanghai, and Singapore. In addition to visiting artist studios, private collections, and art fairs in each city, she also witnessed China's booming art museum landscape. In past three decades, the country has opened more than 4,000 museums. "We saw a lot of new museums being built there," Huang recalled. "The growth taking place there was astounding." Reading about the extraordinary growth of the Chinese art market is one thing; seeing its impact and influence first-hand is quite another.
The Impact of the Institute
Huang and Williams still feel the impact the Institute's faculty and alumni have had on their career and experience in the art world. "The network that I built and that Sotheby's Institute provided was invaluable." Almost every time Williams attends an opening, visits a gallery, or consults with an art advisory firm, she runs into Institute alumni.
Huang agrees, adding "I think the most valuable thing about Sotheby's Institute is the network that you create especially after you graduate. It doesn't matter who you went to school with. Even though I completed my Master's in London, I have met all these people who studied at Sotheby's Institute in New York and it's an instant connecting factor."
Williams sums it all up saying, "There's not that many programs that provide you with a network that will follow you the rest of your life."
---
Ready to join the next generation of art world leaders? Explore Master's programs.