Ever wonder what it's like working in the art world after you receive your degree? On the eve of the Institute's 50th Anniversary celebration, we spoke to one of our 1970s graduates, Leila Heller, and two recent graduates employed at her gallery in New York, to get a peek at what happens once the cap and gown come off.
---
First Steps
"I did not think I would open a gallery," says Leila Heller, the owner of the eponymous Leila Heller Gallery with locations on New York's Upper East Side and a 14,000 square foot state-of-the-art space in Dubai — the largest gallery in the United Arab Emirates. For the past three decades, Heller's gallery has been busy mounting renowned exhibitions, hosting events, producing publications, and representing an impressive roster of Western and Middle Eastern artists, whose work has been included in museum exhibitions, biennials, and institutional collections around the globe. But this was not always the plan for Heller's art world career; her interest initially lay with museums. After graduating from Brown University with a double major in art history and French literature, Heller came to Sotheby's Institute in London to attend the "Works of Art" Master's program that started the Institute's now 50-year existence. "Coming to Sotheby's [Institute] and having to learn about many categories of art was quite a big change, but so informative. It gave me a sense of the market, which was truly what added to my knowledge," says Heller of her experience in the program. From assisting with the first ever historic house sale conducted by Sotheby's, to being a bid spotter for the jewelry and furniture departments, to working at the press office — Heller received a strong knowledge base which, as she says, "has been very helpful to my profession now."

A One-of-a-kind Opportunity
For Melanie Baer, a 2016 graduate of the Master's in Contemporary Art program in New York, the path was likewise unclear at the start. "I didn't know how I wanted to be in the art world or where I would fit in, but I knew that that's what I wanted to do," says Baer, who is now the Assistant Director at Leila Heller Gallery. After receiving a BA and a BFA from University of Michigan, Baer didn't quite know what her next steps should be to get into the art world. So, she came to Sotheby's Institute looking for the answers. "It gave me all the tools that I needed to build my own future," she says of her degree. Through field study trips to Venice and Beijing, as well as studio and gallery visits in New York, Baer was able to observe the inner workings of the art world and understand the different career paths open to graduates. "Sotheby's Institute taught me that the art world is not a place to be quiet. If you need something, you ask, and people will help you." She made it known to her professors and network that she was looking for a position; before long, she was being connected to potential employers. And one summer day, while riding her bike, she got a call. "Hello, Melanie, this is Leila Heller." It's been a wild, rewarding ride ever since Baer answered that call. "I'm here every day, I manage the entire team, I oversee the day to day of the gallery, I travel internationally for art fairs. I do everything, you name it."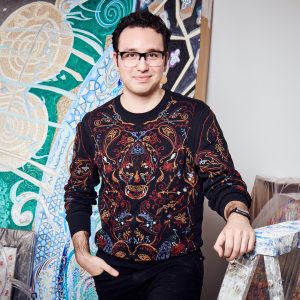 Forging a Path
For Brandon Reis, the path to working in the art world took several turns before he wound up pursuing a Master's in Art Business in New York. "I always knew I wanted to work in the art world. But when I graduated from undergrad, I first went into retail at Apple." His next career move, working as a transatlantic flight attendant, gave him the opportunity to traverse the globe and visit the world's best art institutions. But it was at Sotheby's Institute that Reis received the experience of art he never had before. "It was no longer about learning about individual works or individual artists, but meeting people who deal with the artists. People who were handling the art…it made it more real." Not long before completing his degree at Sotheby's Institute, Reis started interning at Leila Heller Gallery and soon after graduation, was promoted to Curatorial Associate & Artist Liaison. Now, Reis is part of the process, helping artists represented by the gallery and supporting them in their exhibitions at other institutions. Most recently, Reis got to work with Reza Aramesh, making sure the artist had everything he needed for his show at Asia Society in New York. "Galleries have been the core of the art world and the art industry forever, even before they were recognized as galleries. It is a great place to learn in the micro."
A Standout Experience
So why did Leila Heller hire two of her fellow alumni for positions at her gallery? "I know that once you go through the Sotheby's Institute program, you know about everything in the art world and about the market as well. I always cherish working with [graduates] because you don't have to train them and switch them from art history to business. They arrive quite knowledgeable." But, it's not just the value of the education that helps graduates stand out in the art world after graduation. It's the value of the experience and the people that you meet along the way. Leila Heller, for one, still has yearly reunions with her former classmates — 45 years after graduation. Now, working in the art world, the breadth of the network is what Reis highlights when thinking about the impact of the Institute. "You don't realize how many people went to Sotheby's Institute because it's only something that comes up in conversation. But then you realize that we're everywhere, at every art fair, and the gallery next door. I think that's been the best part."
Written by Alina Girshovich; Photos by Jenny Anderson
---
Ready to join the next generation of art world leaders? Explore Master's programs.