Each book in the Phaidon's 'Explorer Series' is an illustrated journey through a specific subject. From animals to plants, and anatomy to cartography, the books in this series are a treasure trove of information, ideas, discoveries, and stunning imagery. Faculty Giovanni Aloi shares how he's approaching his contributions for the exquisite series. Read on for a sneak preview of three plates he authored that are included in the most recent volume: Bird: Exploring the Winged World 
---
         It was towards the end of 2017 that Phaidon's Editor, Victoria Clarke invited me to serve as expert consultant and co-author for Animal: Exploring the Zoological World. Since then, I have been invited to contribute to other titles like Flower: Exploring the World in Bloom and more recently Bird: Exploring the Winged World. I never get tired of writing concise and incisive entries for these beautiful books. There's a very special kind of creative pleasure involved in translating big ideas into short sentences. And while I know that my academic books will be mostly read by university students in libraries, this type of publication makes knowledge available to a much wider and more diverse audience. Right now, that's extremely important.
Included below are three plates from the latest volume in the series.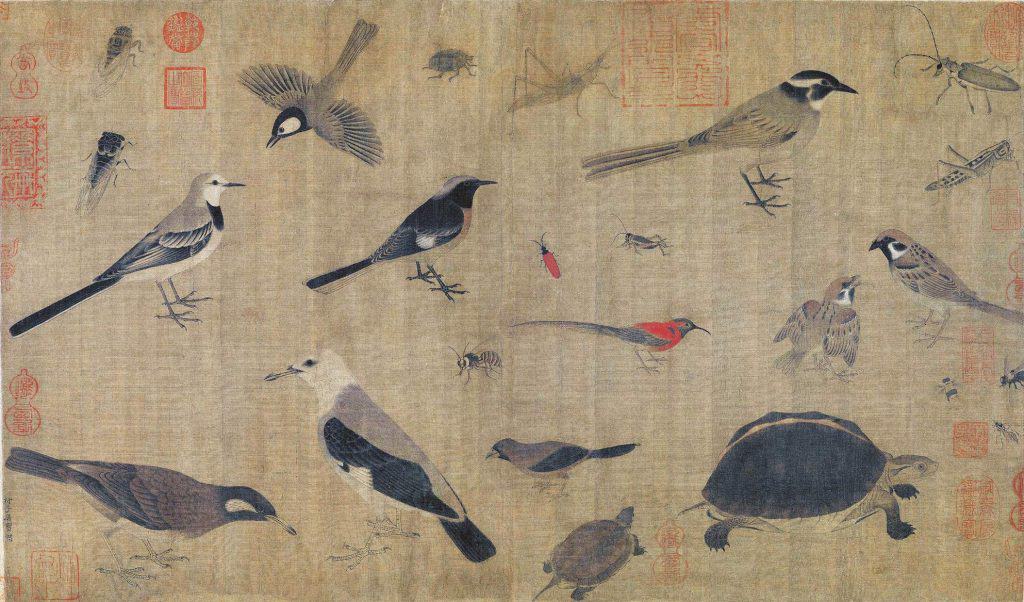 Huang Quan
Birds, Insects and Turtles, 907–60
Ink and colour on silk, 41.5 × 70.8 cm / 16 3/8 × 27 7/8 in Palace Museum, Beijing
These twenty-four animals on a plain background include insects, reptiles and birds common in tenth- century China, represented with such accuracy and naturalism that it is possible to identify each creature with a certain level of confidence. Among others, the artist painted a white wagtail (Motacilla alba), a white-cheeked starling (Spodiopsar cineraceus), a daurian redstart (Phoenicurus auroreus) and, in the middle of the scroll, a scarlet-breasted Mrs Gould's sunbird (Aethopyga gouldiae). The attention to detail suggests that the Song dynasty artist Huang Quan (c.903–965) observed the birds from nature instead of studying preserved specimens, as was common in the West. The birds are filled with life, as is shown by the accurate portrayal of their behaviour: the white-cheeked starling inquisitively searches the ground for worms and, at right, a baby Eurasian tree sparrow (Passer montanus) frantically flaps its wings in anticipation of a meal brought home by its parent. More than just an accurate representation of birdlife, this scene metaphorically anchors the meaning of this handscroll, which, the inscription details, was created by Huang Quan for his son Jubao to study. The scroll is an outstanding example of the naturalistic xiesheng style – literally, 'sketch of life' or 'lifelike painting' – of which Huang Quan was a pioneer. It prioritized realism and accuracy over the philosophical ideas underpinning xieyi, the traditional style that expressed concepts through fast and fluid brushwork.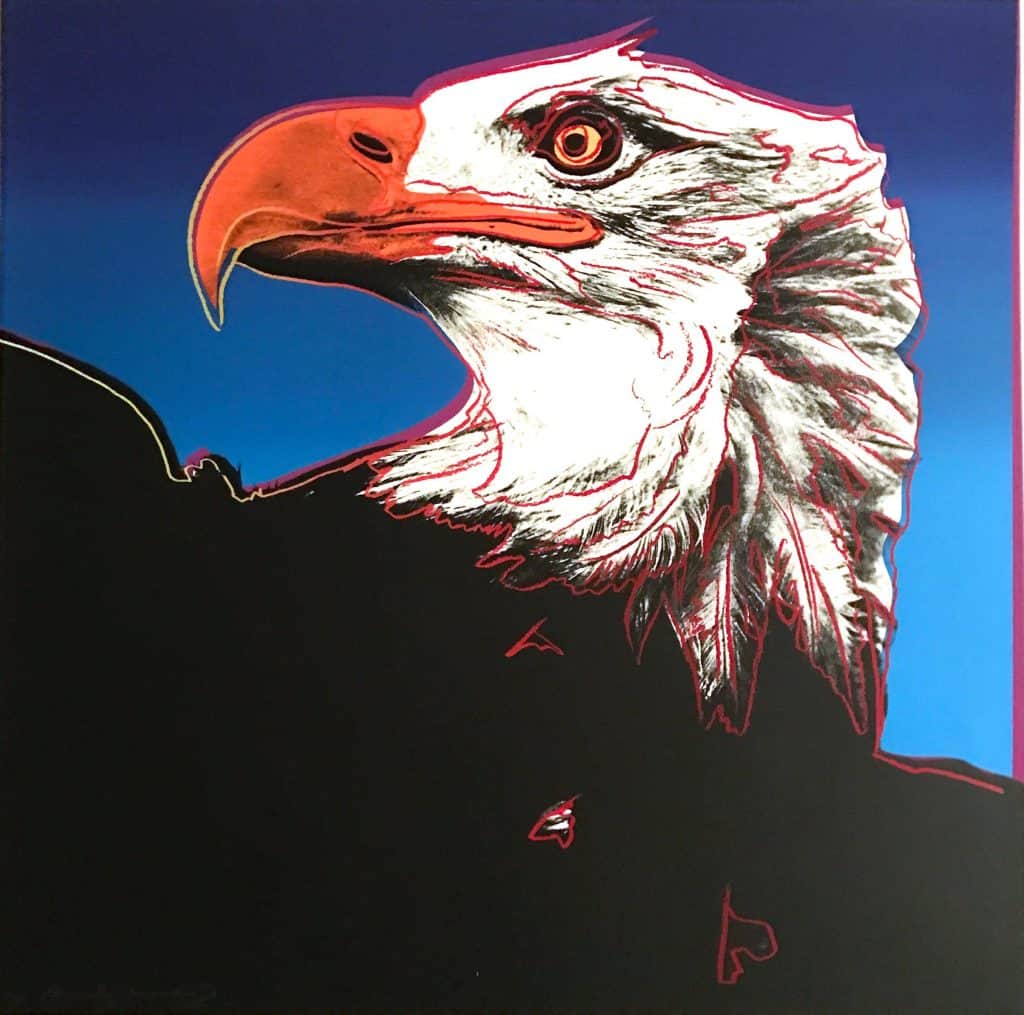 Andy Warhol
Bald Eagle, 1983 Screenprint, 96.5 × 96.5 cm / 38 × 38 in Private collection
This colourful screen print portrait of a bald eagle (Haliaeetus leucocephalus) by Andy Warhol (1928–87) is a confirmation of the bird's iconic status in popular culture. Chosen by the Founding Fathers in 1782 as the Great Seal of the United States, the bird summons ideals of majestic power, confidence and elegance.
A bird of prey native to North America, the bald eagle joined the list of endangered species in 1967. Substantial population declines were linked to environmental degradation, and most specifically to the indiscriminate use of DDT for agricultural purposes. While not necessarily deadly to the birds, the insecticide interfered with their metabolization of calcium. This led to them laying brittle eggs that would break under the weight of a brooding adult. In 1983, gallerists and environmental activists Ronald and Frayda Feldman commissioned the renowned Pop artist Warhol to produce a series of screenprints to raise public awareness on the urgency of wildlife conservation. The result, Endangered Species, is a set of ten screenprints immortalizing near-extinct animals – including Grevy's zebra, the African elephant, the giant panda – just as Warhol had done for some years with his famed rock stars and actors. Today the bald eagle's numbers have risen to the point that the bird is no longer endangered and it is a widely acknowledged success story for the conservation movement – like another of Warhol's species, the Pine Barrens tree frog. The bald eagle remains protected in the United States under multiple federal laws and regulations.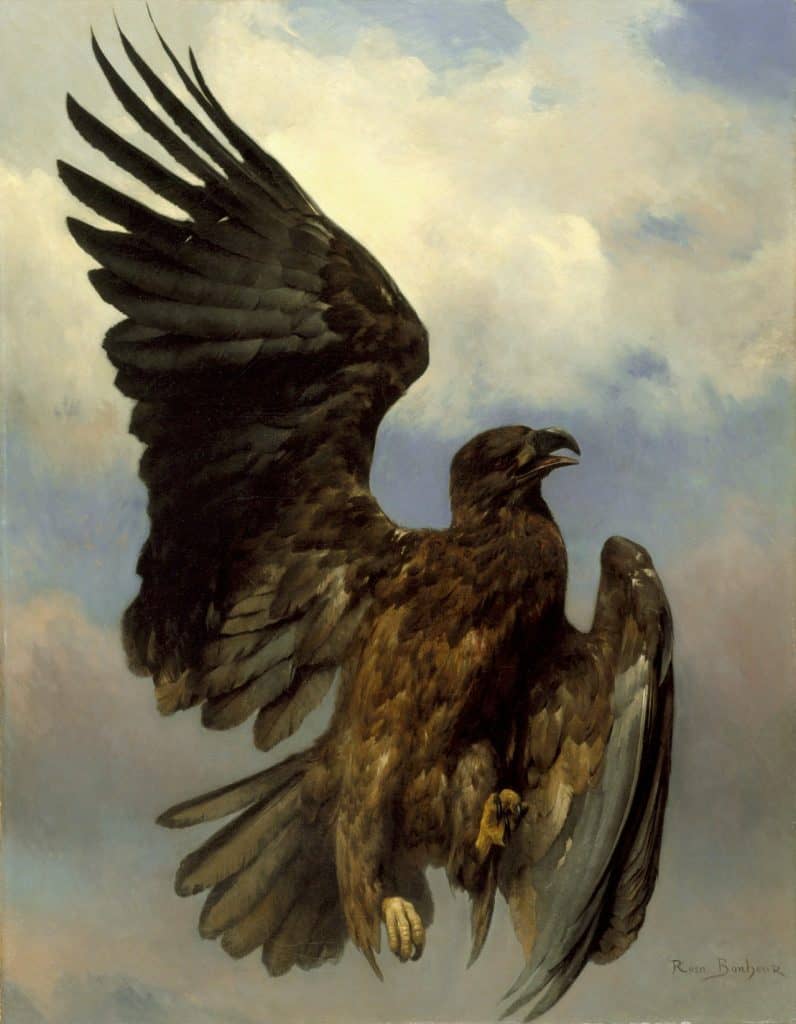 Rosa Bonheur
The Wounded Eagle, c.1870
Oil on canvas, 147.6 × 114.6 cm / 58 1/8 × 45 1/8 in Los Angeles County Museum of Art, California
A golden eagle (Aquila chrysaetos) struggles to fly with a broken wing in this painting by the French artist Rosa Bonheur (1822–99), unusually depicting the huge and fearsome raptor in a moment of vulnerability and defeat. In Western art, as in classical culture, the eagle is traditionally a symbol of martial triumph and pride, used by armies from the Roman legions to Napoleon's Grande Armée and the forces of the Hapsburg empire. Here, the symbolism of the wounded bird may refer to the defeat and capture of the French ruler, Napoleon III, at the Battle of Sedan during the Franco-Prussian War (1870–1), or possibly to the harm Prussia (again, symbolized by an eagle) had caused itself by beginning the conflict. Bonheur made her name painting highly accurate images of animals at a time when such paintings were considered less important than portraiture or history painting, but her originality was widely recognized. She exhibited many times at the prestigious Paris Salon and was awarded the Légion d'honneur in 1865. With a wingspan measuring up to 2.2 m (7 ft), the golden eagle is one of the largest birds living on the French Alps and one of the most powerful fliers of all raptors as it hunts other birds, reptiles, and mammals. Bonheur's representation defies the convention of the triumphantly confident, masculine bird – a symbolic attack on patriarchy by a trailblazing female artist who lived her homosexuality with pride at a time when few dared. 
---
Advance your career in the art world with unparalleled access and support. Learn more about our MA Programs in London , New York, and Online.