As Sotheby's Institute of Art celebrates its 50th anniversary, the school's ties in major and emerging markets grows stronger through privileged access, field study travel, and an international alumni network of over 8,000 graduates. As the global art market grows and evolves, so too does the Institute.
This Fall, Sotheby's Institute and the prestigious Ewha Womans University in Seoul signed a Memorandum of Understanding that marks the inaugural step toward promoting academic exchange and future collaborations between the two institutions. To commemorate this partnership, we explore what makes South Korea a place to watch and a major player in a globally connected art market.
---
The South Korean art market is a major economy and influencer within the global art market, with the highest number of private art museums in the world and sales at Korean auctions totaling $91.8 million USD in the first half of 2018 alone. This year marked the first time mega galleries David Zwirner, Pace Gallery, and Perrotin Galerie took part at the KIAF (Korea International Art Fair).
Also this year, the Sotheby's Institute of Art - Ewha Womans University partnership will open a wealth of opportunities for students of both institutions, and is a strategic match. Sotheby's Institute of Art CEOs Christine Kuan and Jos Hackforth-Jones state: "We are delighted that the premier educational institute for Korean women and the premier educational institute for art business will be working together to cultivate women's leadership in the art market –– advancing our mission to foster future generations of art business leaders and cultural stewards."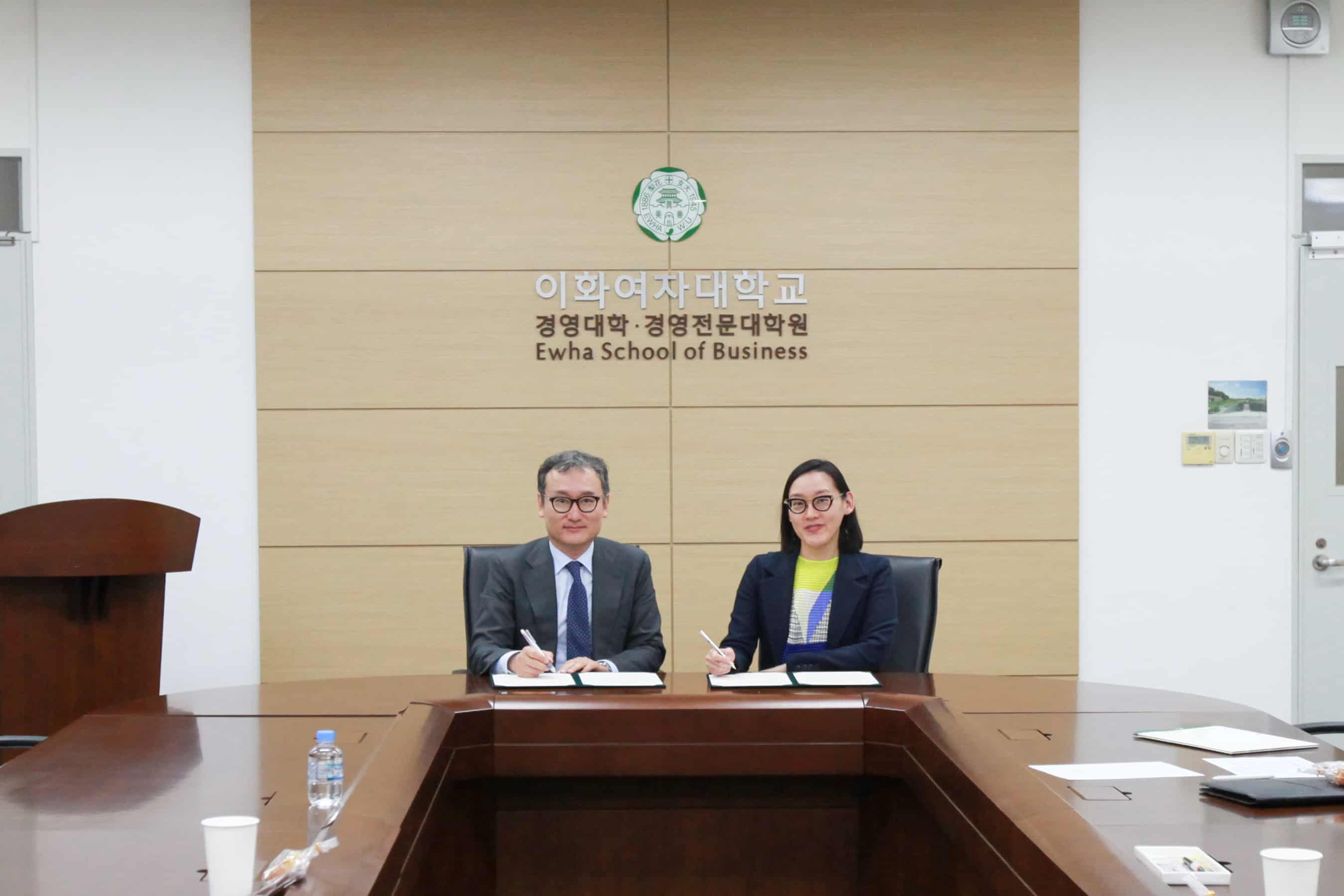 Christine Kuan, Sotheby's Institute CEO and Director of the New York campus and Hee-Dong Yang, Dean of Ewha Graduate School of Business
Hee-Dong Yang, dean of Ewha Graduate School of Business, states that the cooperation between Sotheby's Institute of Art and Ewha MBA marks a threefold first with vertical wide benefits and implications: "It is the first effort of a Korean business school to help the future Korean art professionals develop new careers as business people; it helps the Korean art business market grow with more articulated methods; and it helps the brand managers of corporations enhance their brand power and reputation with insightful knowledge of aesthetics".
Evolving from a tailor-made connoisseurship program begun by Sotheby's Auction House in 1969, Sotheby's Institute of Art is now independently owned, which creates the context for uncompromised focus on the educational experience. Sotheby's Institute of Art is the leader in art business education and object-based learning, with campuses in the major capitals of the art world, New York, London, and Los Angeles and prestigious accredited partners such as University of Manchester, a Russell Group university in the United Kingdom, Tsinghua University in Beijing, Claremont Graduate University in California, and National Association of Schools of Art and Design, USA (New York). Students are granted access through close ties with Sotheby's auction house, but so much more, with expansive opportunities across diverse sectors built through the Institute's network of faculty, alumni and employers.
David Goodman, Executive Vice President of Digital Development & Marketing - Worldwide, Sotheby's, remarks:  "Sotheby's has a long-standing, close relationship with Sotheby's Institute of Art to help foster future industry leaders and to impact thought leadership in global art markets. Korea is a rapidly growing art market and we see this as a tremendous growth opportunity to advance our relationship with art business professionals through Sotheby's Institute."
In the coming year, a Sotheby's Institute alumni chapter is launching in South Korea—among approximately 30 other key centers—in order to facilitate ongoing connections and collaborations within and across the most dynamic markets and global cultural centers.
Sotheby's Institute alumna Hayoung Chung (MA Contemporary Art, New York, 2017) examines the art market in her home country of South Korea after her graduate studies in New York, and identifies technological innovation and entrepreneurial frontiers to be a powerful signal that South Korea is a changemaker on the international scene: "There's a government funded program, Art Hackathon, aiming to support entrepreneurs who combine blockchain technology and art. Such companies include Maecenas, a platform for blockchain-based auctions of fine art or The Forever Rose Project, a crypto-artwork that sold this year for $1 million to ten collectors in an ethereum-based platform that facilitates the tokenization of gifts." Chung recently covered the Gwangju Biennale for Hyperallergic.
"South Korea is one of the most robust art markets in the world," according to Sotheby's Institute faculty and art business expert, Iain Robertson, whose book New Art, New Markets (Lund Humphries, 2018) looks closely at the country. "Key drivers include its two main auction houses, K and Seoul. Its top commercial dealers, Kukje, PKM and Hyundai (Seoul), and Leeahn (Daegu), are also behind the promotion of a market savvy Minimalist art movement known as Dansaekhwa."
Corporations have a long tradition of supporting the arts in South Korea, opening art spaces that are technically outside the dealer network and act more as experimental venues, including the Samsung owned Leeum Museum, the Amorepacific Museum, and the Lotte Collection. Many South Korean collectors are experienced second or third-generation buyers who were exposed to art collecting by parents or grandparents, differentiating many of the country's collectors from other markets, where there's a majority of first-generation buyers.
The government's compelling soft power in regards to the arts is expertly fostered by the Korean Arts Council and overseas Korean Cultural Centres, entities that are extremely effective at promoting the Korean brand and using art as cultural diplomacy around the world. South Korea has a permanent pavilion in the Giardini at the Venice Biennale since 1996. A state-funded Art Bank was established in order to support artists, activate domestic art markets, and facilitate the purchase and rental of artworks at citizen level.
With robust support from officials, the tradition of private and corporate collectors, market savvy art movements, and cutting edge advancements in technology, the South Korean art market is growing full speed in a multitude of directions and the need for art market experts is matching that trend.
Featured image: Ewha Womans University campus, Seoul, South Korea
---
Become an art market expert with Sotheby's Institute of Art. Explore our programs.