MA Art Business

a

lumna

Taylor Bythewood-Porter

is

Assistant C

urator

at the

California African American Museum

(CAAM)

,

where she

recently curated

Rights and Rituals: The Making of African American Debutante Culture

.

She spoke with us about

the

socio

political impact of African American debutante culture

and the value of

providing

historical context for artistic ideas.
---
How would you describe your Sotheby's Institute of Art experience? 
I honestly can't say enough about the program. I enjoyed exploring various art and cultural hubs around the world, and I appreciated the great knowledge and expertise of the faculty. The program offers a lot of opportunities for those who are seeking a career within the arts and many entry points and pathways to those careers.
What drove your decision to apply for a Sotheby's Institute MA program and what did you study? 
Something that attracted me to Sotheby's Institute was its focus on art business, whereas a lot of the other master's degree programs were geared toward art history. For me, it was important to have a better understanding of the fundamentals of art business and how both organizations and people work together in the greater art ecosystem. The Sotheby's Institute curriculum is informative and hands-on and continues to guide me on my journey.  
What does your current role entail? 
I am currently the Assistant Curator at the California African American Museum (CAAM). A lot of the work I do focuses on creating culturally specific exhibitions that highlight African American history, art, and culture. Some of my projects have included California Bound: Slavery on the New Frontier, 1848-1865; Making Mammy: A Caricature of Black Womanhood, 1840-1940; Cross Colours: Black Fashion in the 20th Century; and Tatyana Fazlalizadeh: Speaking to Falling Seeds. My experience developing pitches at Sotheby's Institute has aided me as I craft exhibitions and work on community engagement. 
Can you give us an overview of your recent solo exhibition, Rights and Rituals: The Making of African American Debutante Culture? 
CAAM debuted Rights and Rituals: The Making of African American Debutante Culture between May 26, 2021 and February 27, 2022. The exhibition explores the events leading up to November 18, 1961, when President John F. Kennedy and California Governor Pat Brown greeted 28 young ladies as they made their debut into society during the Los Angeles Chapter of The Links, Incorporated's tenth annual cotillion. Social organizations such as The Links, Incorporated, have a long history of challenging institutionalized stereotypes that limit the role and potential of Black girls.  
The objective of this exhibition was not only to highlight the history and achievements of Los Angeles debutante organizations but also to reveal their social and political impact. As Black families experienced greater economic mobility, their daughters became essential to projecting Victorian values of morality and beauty, adding to existing community beliefs in the importance of education and service. African American debutantes shouldered the responsibility of challenging negative stereotypes of Blackness while also exhibiting their worthiness as women. The history of the young Black "deb" illuminates African American women's history and the complexity of racial representation.  
With a focus on the 1880s to the transformative decades of the 1950s and 1960s, Rights and Rituals looks specifically at how Black debutante culture developed in the western United States. Using the lens of social history, personal artifacts, archival materials, and individual microhistories, the exhibition offers a new perspective on its participants' contributions, both visible and invisible, to the fight for civil rights. 
How would you describe your approach to art curation? 
My curatorial practice is deeply rooted in scholarly research. A great way to offer context for an exhibition's subject matter is by elevating underrecognized stories or people from historical archives and presenting them in visual ways. I use a similar approach when I work with artists, as I am looking for ways to connect the artist's ideas to historical movements. It can be helpful to tie an exhibition's subject matter to historical information for viewers who might be unfamiliar with contemporary art.  
What advice or tips would you give to Sotheby's Institute applicants? 
Take advantage of all of the networking opportunities that the institute has to offer. While it's important to familiarize yourself with the people in your field, it's also helpful to know people who work in other sectors and have different expertise. You never know when you'll need someone to answer a tech question when you have a three-channel video installation that you need to set up!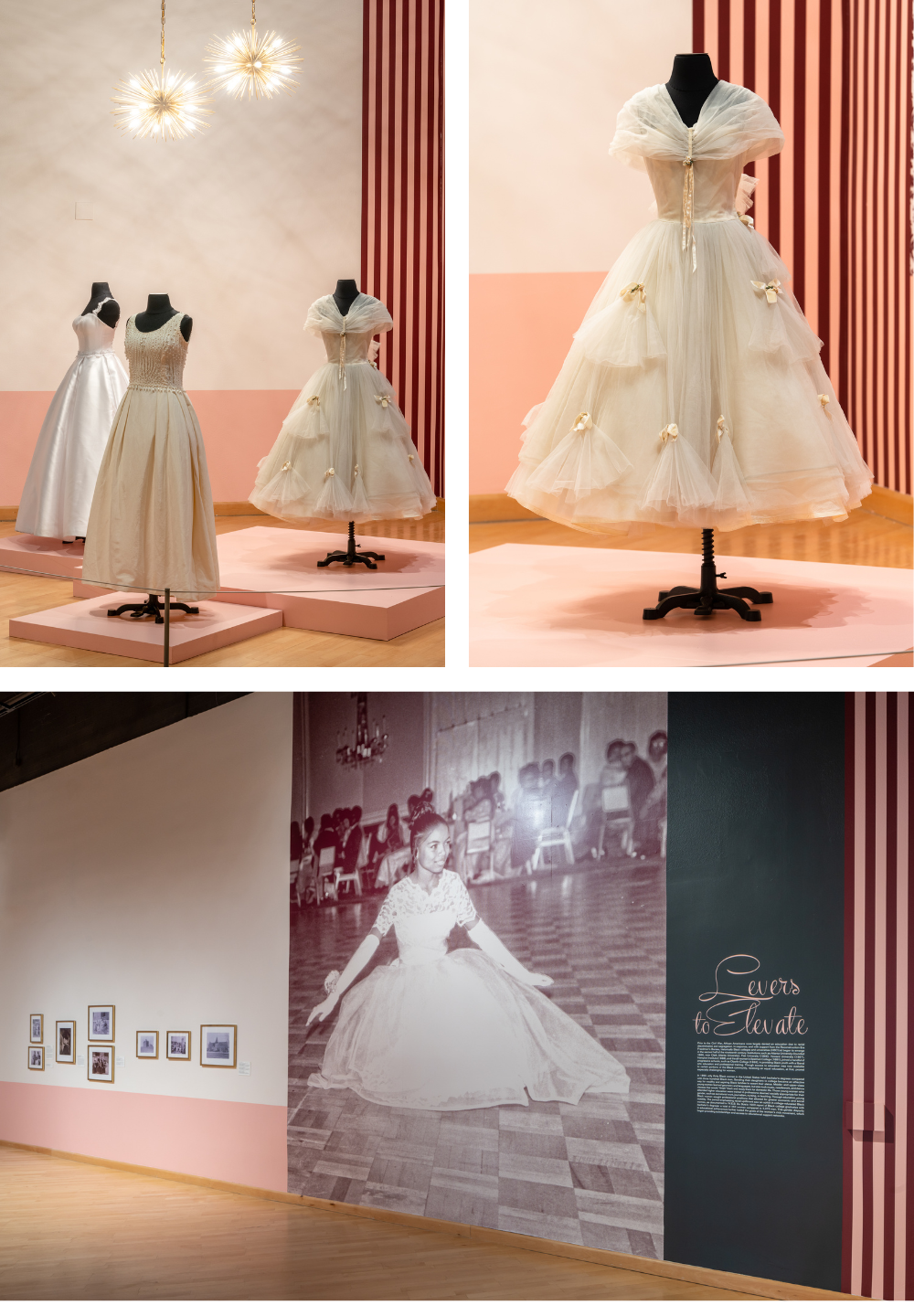 Images:
Elon Schoenholz
Rights and Rituals: The Making of African American Debutante Culture, curated by Taylor Bythewood-Porter, Assistant Curator (May 26, 2021 - February 27, 2022)
Exhibition design by Julia Luke Design
Courtesy California African American Museum