In her new book, The Art of Looking Up, faculty Catherine McCormack guides the reader through the stories behind 40 spectacular ceilings around the globe that have been graced by the brushes of great artists including Michelangelo, Marc Chagall, and Cy Twombly.⁠ In many cases, these artworks also make bold political, religious, or cultural statements, revealing much about the society and times in which they were created. With so many magnificent ceilings in the world, narrowing them down to 40 was an ambitious task. So, here's an additional story from McCormack that is not included in the book. This bonus chapter looks at a ceiling from the Queen's House in Greenwich — now installed in London's Marlborough House — that scholars believe may have been partially painted by a surprising artist.
---
Before the establishment of the Royal Academy in England in 1768, and without a state or crown sponsored national art school, England relied on importing painters from the European continent. This imported talent was necessary if the ruling classes and the royal court wanted to immortalise themselves with portraits, decorate their palaces in keeping with the princely fashions of neighbouring nations, and craft their funerary monuments. And so European painters became indispensable members of English aristocratic households on whom their aspirational patrons depended for constructing a carefully constructed and idealised identity through images.
It was under these circumstances that Orazio Gentileschi, an Italian painter from Tuscany, arrived in England in 1626 with his three sons and was ensconced in the household of George Villiers, the Duke of Buckingham. British shores were hospitable and lucrative for Gentileschi, who lived the remainder of his life in the UK and was rewarded for his services with an illustrious final resting place in the Queen's Chapel at Somerset House on his death in 1639. A favourite at the court of Charles I, the artist was particularly favoured by the king's wife, Queen Henrietta Maria, for whom he produced an Allegory of Peace — a visual cycle of nine canvases that were originally installed in the ceiling of Great Hall of the Queen's House at Greenwich. The work was moved in its entirety to Marlborough House in the eighteenth century; a royal residence in London that was initially built in 1711 for Sarah Churchill, Duchess of Marlborough and confidante to Queen Anne. Since 1965, the house has been leased by Queen Elizabeth II to the Commonwealth of Nations and is the seat of the Commonwealth Secreteriat.
The painting cycle comprises a large central tondo (circular painting format) surrounded by four rectangular canvases and four smaller tondi, one in each corner. Together they present a ceiling decoration that is very much in keeping with the simple and bold geometry of Inigo Jones's Palladian interior in the work's original location at the Queen's House in Greenwich. But an Allegory of Peace also functions as something of a diplomatic visual manifesto about cultural, or what we now call 'soft power'.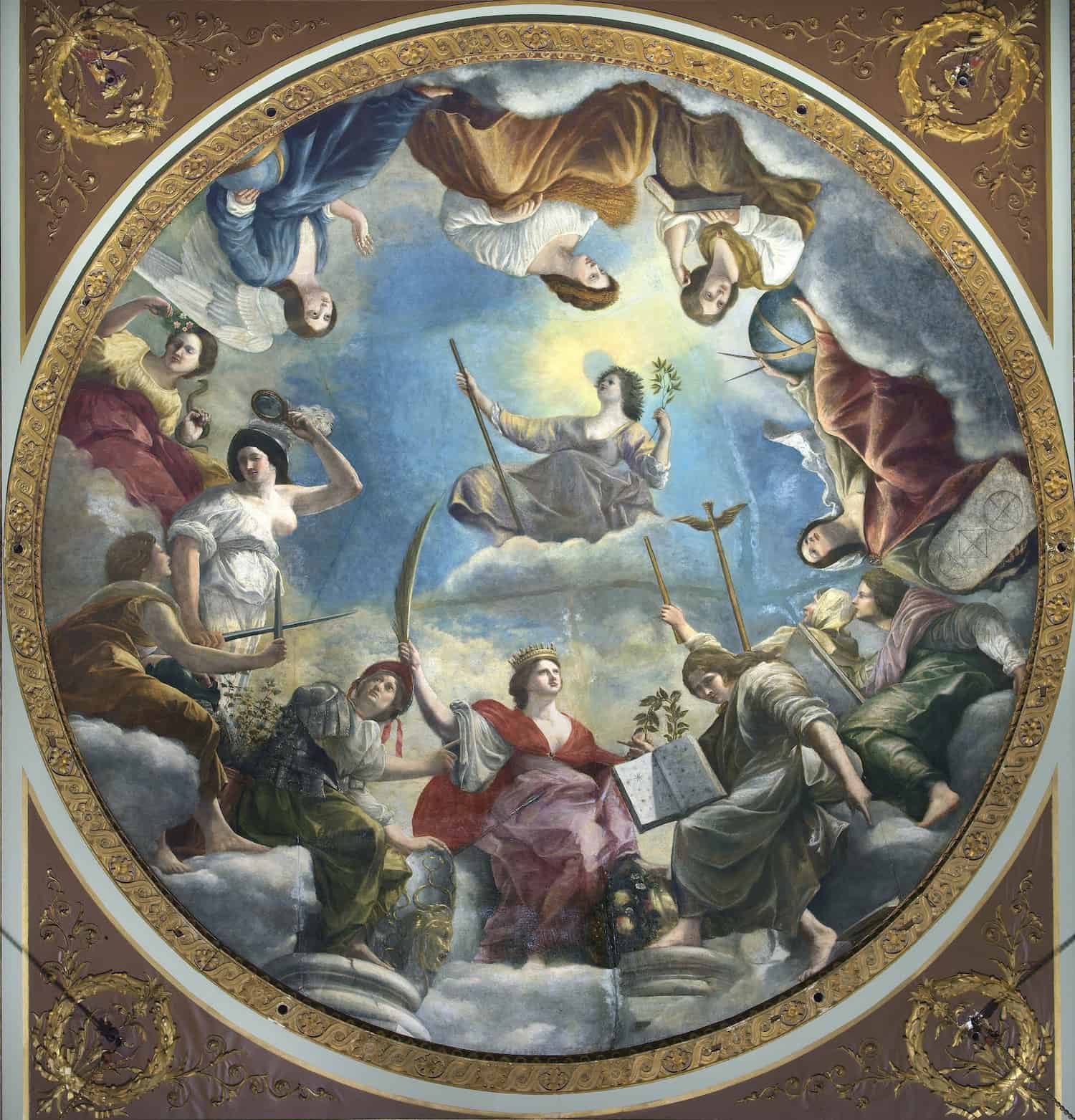 Orazio and Artemisia Gentileschi (?), Allegory of Peace, Marlborough House, London, UK
In the central image a personification of Peace sits high in heaven on a cloud with an olive branch and staff and presides over a circular assembly of twelve female figures who personify the trivium and quadrivium of liberal arts which were the central learning principles from Latin Antiquity. Directly beneath Peace is the central figure of Victory holding a laurel wreath and with her foot on an overflowing cornucopia. An armed personification of Reason sits on her right, and was believed to be the guiding principle of all human creativity and activity. Reason looks to a trio of women who represent the Trivium of Liberal Arts and brandish rather arcane symbols to distinguish them. These comprise of Grammar watering a plant and sharpening the sword of Rhetoric who holds a mirror. She stands next to Logic whose symbols are a snake and a bunch of flowers. On the other side of Victory sit personifications of the Quadrivium, from Astronomy holding a book of stars, to Arithmetic, Geometry and a hooded figure of Music. The identity of the final three figures has been disputed but may include the Mechanical Art of Agriculture with a crown of corn , the winged figure of Fortune, plus a possible personification of Meditation who appears with a book. In the rectangular panels surrounding the central assembly are figures of the nine Muses who inspire the creative forces of humans, from poetry to dancing, while the corner tondi depict figures of Painting, Architecture, Sculpture and Music.
The overriding message here is verbiose but with an essential concrete message to impart – that Peace (a product of good government and rule) allows the endeavours of learning, knowledge and creativity to flourish under the guidance of the cool headed Reason, in a mutually reinforcing relationship with victory and prosperity for the British realm. It further seems fitting that that painting's sentiment should be adopted in the more recent function of its home in Marlborough House as the Commonwealth Secreteriat, responsible for the victorious prosperity through good governance and peace across fifty-three nations.
But there is a ghost in the historical archive associated with these paintings. The suggestion of another hand at work whose contribution has not been duly recognised and which raises another interesting issue of authorship and politics, reason, and victory. Scholars such as Mary D. Garrard believe that up to six of the paintings in the Allegory of Peace are by the hand of Orazio Gentileschi's daughter Artemisia Gentileschi. She is better known as the most famous rape victim of art history and proto-feminist artist in an overwhelmingly patriarchal system of art production that only allowed a woman to pick up the tools of her painterly trade because she grew up in a studio of artists with her father and brothers. Because in the seventeenth-century women appeared in diplomatic, nation building art as abstract muses and ideals, not as the active architects of that dream of prosperity and victory through peace. And while her father was gloriously immortalised with a tomb in the heartland of the British establishment whom he served, his daughter's potential testament to her glorious achievements while on London soil is left to the footnotes of scholarly squabbles.
The Art of Looking Up by Catherine McCormack is published by White Lion.
---
Study with experts and elevate your art world knowledge with our programs in London, New York, and Online.