MA Contemporary Art student Ecem Senyuva reflects on the experience of co-curating an exhibition of new work by MA Fine Art students at Chelsea College of Art and Design.
---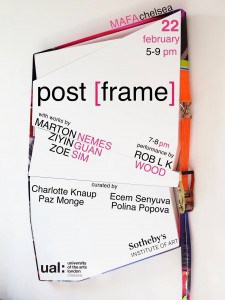 As four Contemporary Art masters students curating a show, we knew we wanted to showcase works by artists who pushed the literal and figurative boundaries of their medium. Having curated another show at Chelsea College of Arts, I was familiar with the artists practicing there and we thought the Hungarian artist Marton Nemes would be a perfect starting point for our group show. Nemes rethinks the canonical configuration of oil on canvas by deconstructing and rearranging pictorial fragments, using cargo straps to hold them together. This was the idea we wanted to explore: a new sense given to the medium of painting, which is no longer bounded by the canvas or its frame.
Mesmerized by British artist Zoe Sim's transformation of a painting's surface into moving image through light projection, Chinese artist Ziyin Guan's experimental method of applying three-dimensional materials on canvas, and British artist Rob L.K.Wood's distortion of road signs with his own body print, we aimed to put these artists in conversation through our curating. The title "post [frame]" was born from the innovative nature of the works; putting [frame] in brackets created a visual reference to the frames our artists were reimagining.
Working on the space, we found the bright white patches on the gallery space's ivory floor to be problematic. We unanimously decided to use the freedom granted to us to paint the floor a striking color used in all the exhibited works: pink. A pink floor would put these pieces in visual dialogue. We were excited but also nervous as we had only one day to realize this idea. The artists assured us that it was possible—the visitors would not be stepping on wet pink floors.
The day of the exhibition opening, we grabbed buckets of millennial pink (and bottles of rosé) and our artists rolled up their sleeves. The risk we took paid off: the floor quickly dried and turned a miraculous pink, illuminating the white walls and ceiling with its reflections, turning the space into a magical pink box and startling artists and professors as they passed by. We also put up LED lights in the shape of a rectangular frame at one end of the room, with one corner flickering different colors, as if rebelling against the frame. Visitors were surprised to find that this piece was created not by an artist, but by the curators.
"Post [frame]" was a success. Visitors were intrigued by the efforts in the various works to redefine the medium of painting and to push its boundaries. In Wood's participatory performance at the opening, he pulled members of the audience into "his canvas" (the whole room) and blew up a bag full of pink paint—the response to this too was enthusiastic. We are thankful to Sotheby's Institute of Art for this opportunity and look forward to more shows with these talented artists.
Written by Ecem Senyuva
"Post [frame]" featured works by Rob L.K. Wood, Zoe Sim, Marton Nemes and Ziyin Guan, was curated by Ecem Senyuva, Polina Popova, Paz Monge and Charlotte Knaup in the MAFA Space at Chelsea College of Art and Design.