Challenges implicit in space, logistics, and personalities inevitably come up. The midtown Manhattan space where Sotheby's Institute will install exhibits by burgeoning young curators, our candidates for an MA degree in Art Business and Contemporary Art, is a case study in problem-solving and creative thinking. There will be one show a week throughout the fall, and the exhibit space is only a few blocks from the MoMA and blue-chip New York galleries.
To catch a glimpse of the questions and challenges that arise during the first stages of the curation process, we sat in on one of the curating classes. Here are some highlights:
---
Working with the space
The space is located in the 1931 General Electric building, an historic art deco landmark that houses our New York campus. Preservation and union regulations mean that the walls cannot be drilled into or marked in any way. The logistics conversation taking place in the MA curating workshop briefly meandered into talk about American union rules - which were unknown to several of the international cohort - and what happens to those who break them. New Yorkers in the room shared stories of the 20-foot inflatable rat that takes up residence outside of violators' buildings, at which point art entered the conversation once again. There's a bronze sculpture (pictured below) of this very union symbol just a few blocks away, installed by The Bruce High Quality Foundation in the plaza of Lever House on Park Avenue.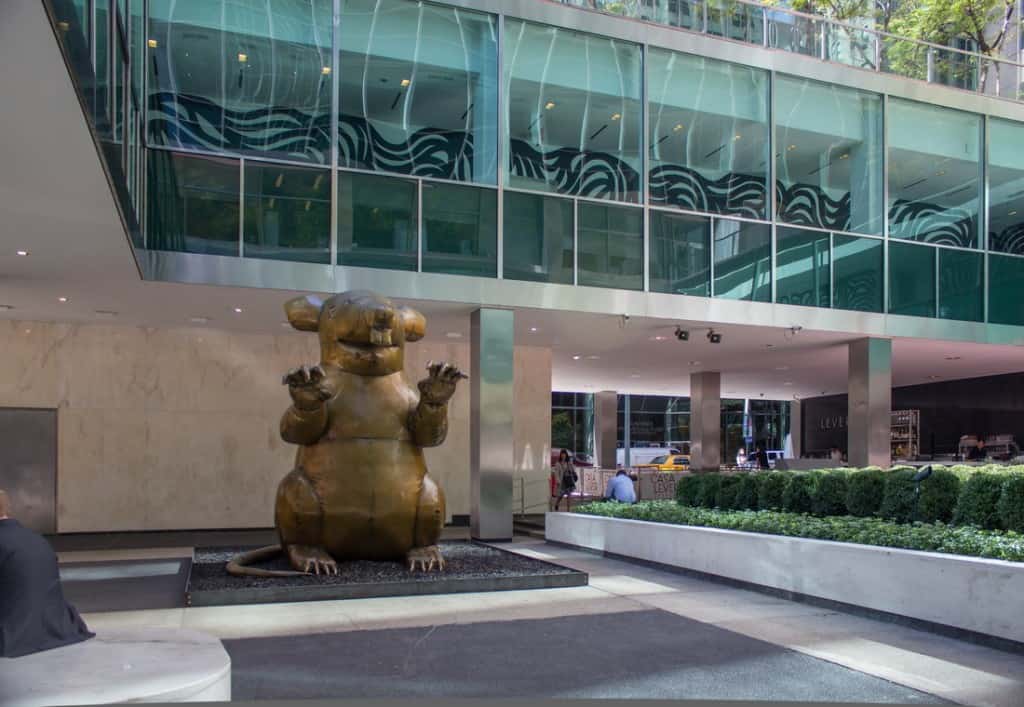 The New Colossus, 2012
Working within constraints
Alternatives discussed were to hang works from the ceilings via wires, like salons of old, or to use display ledges. For 3D works, such as an exhibit of fashion or sculptural photography that two curators were considering, plinths were considered. However, where to find plinths? The solution: approach retail spaces going out of business, which one student had done in the past. Another volunteered the name of a woodworking shop that rents space and use of tools by the hour, and a confidence that she could build her own.
Working with artists
In the week prior, the students had been researching and making contact with artists they were interested in showing, many of whom are completing their MFAs at institutions such as Yale, Pratt, and FIT. As things begin to progress, new questions arise: Should the artists be involved in the installation process? What about permissions around recording or distributing images in marketing the exhibit openings throughout the fall?
As the future curators begin to answer these questions and continue making plans leading up to their exhibits, you can track their journey on the @siacurating Instagram account. Watch this space for more behind-the-scenes stories of curating an exhibit in midtown Manhattan.