How do you find artists for your first show? That's the first question on the road to becoming a curator.
Master's degree students, Kaitlyn Ward and Andrea Moreno, recently drove from New York City to Beacon, Newburgh, and New Haven for a busy weekend of studio visits and museum exploration. The trip was the first big step on the road to curating shows at Sotheby's Institute of Art-NY this fall. Below, Kaitlyn and Andrea recount their journey to scout artists for the shows.
---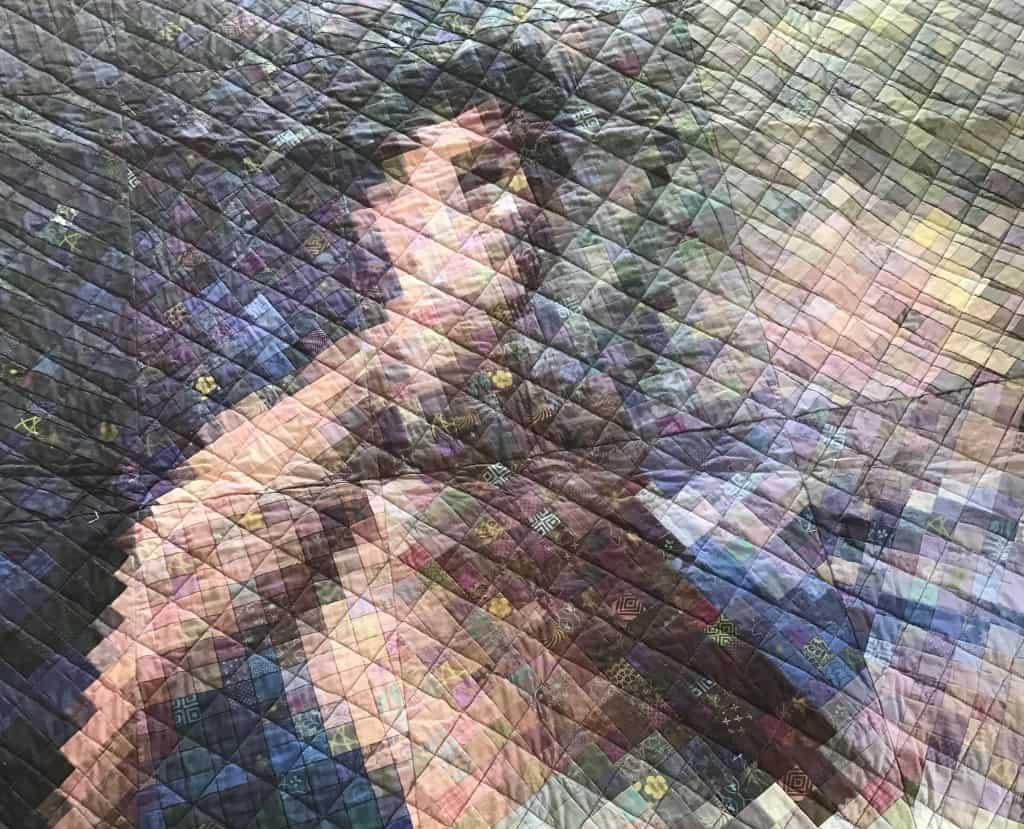 1st Stop: Greg Climer
The first artist we met with was Greg Climer. Greg creates works that reimagine traditional crafts with modern technology. His quilts feature images from pornography, scenes from his life, and from film and news media. We were able to discuss his practice and the labor-intensive work he is creating.
After hours and hours of mapping out his designs in photoshop, Greg works with a printer to have his fabrics printed with different patterns on each square inch. After receiving the printed fabrics, he spends days sewing the swatches together to form his large quilts. The images printed and sewn on the quilts are blurry when viewed in-person. However, the images (often pornographic in subject) become clear when viewed through a camera. He finds it comedic and interesting that one is able to better view his works through a digital source, when iPhones and other digital mediums have become so mundane in our world.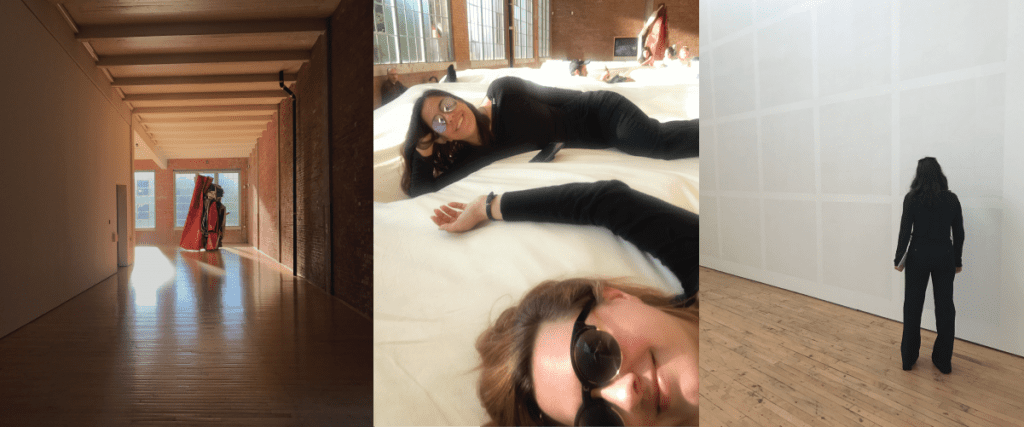 2nd Stop: DIA:Beacon
After an enjoyable visit with Greg, we made our way to DIA:Beacon. This was a major change from the studio visit with Greg. This was our first time visiting, and we were excited to see if it was as impressive as everyone says. While there was some great work featured, we felt that the overall curation and placement of the artwork was not as effective as it could have been. However, we did have some favorites, including the instructional wall drawings by Sol LeWitt, the car metal and interactive bed sculptures by John Chamberlain, and the large scale landscape rubbings of Michelle Stuart.
We ended our Friday at DIA:Beacon and made our way to New Haven, Connecticut to rest up for a busy Saturday of studio visits at Yale University.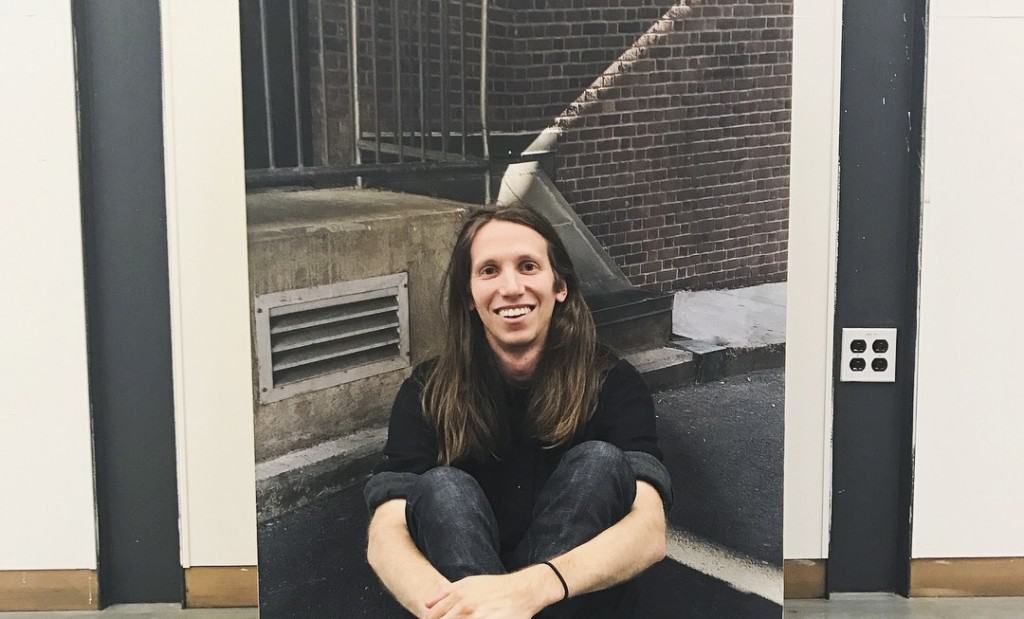 3rd Stop: Dan Swindel
On Saturday morning we had our first visit with Dan Swindel in the Yale Photography & Sculpture department. We sat down in his shared studio to discuss the trajectory of his work and the motivations behind it.
Dan makes objects that act as both photographs and sculptures, many with intersecting planes or kinetic components. These objects are often close to life-size, so they engage the space in which they're being viewed.
Recently, he's shifted his focus to video work that responds to his experience working in a corporate environment. In this work he uses humor as critique to discuss the sterility of corporate spaces and address the idea of play in the workplace.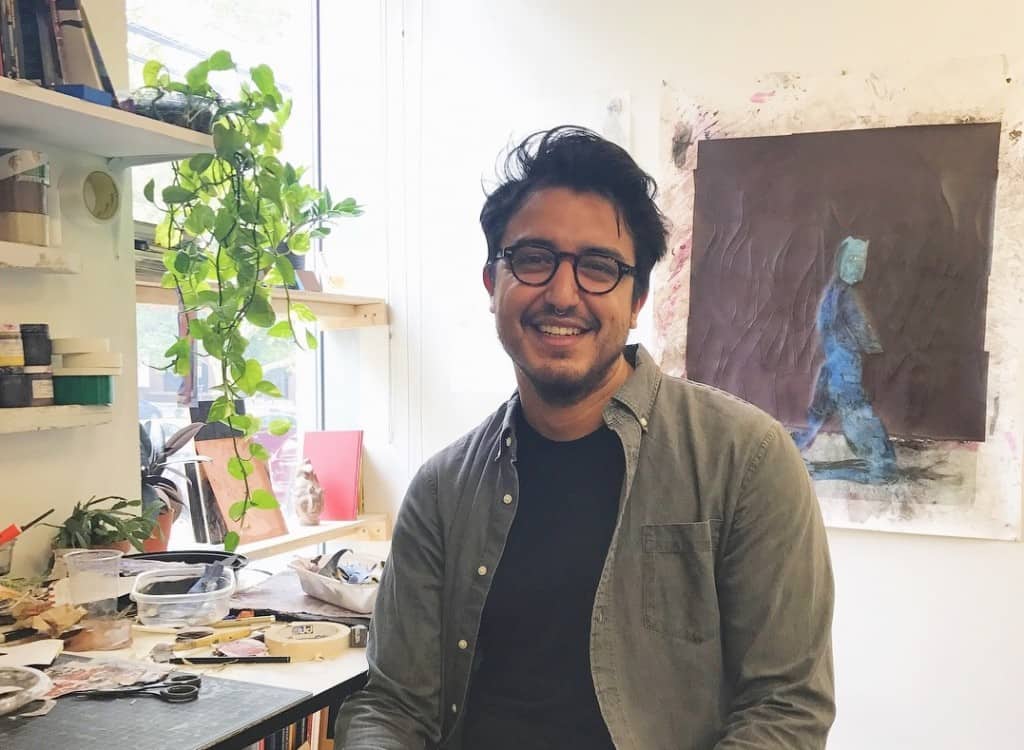 4th Stop: Felipe Baeza
Our next stop was Felipe Baeza's studio in the Painting and Printmaking department down the street. Felipe started out as a printmaker, but has been working more with painting since his arrival at Yale. His work addresses the subject of "the other," as it relates to his identity as a queer man and Latin American immigrant.
Felipe employs traditional printmaking techniques, as well as embroidery and collage, to create textured paintings and works on paper. He applies layer after layer of media, which he subsequently peels and carves away, only to add more on top to further define the figure. His source material includes gay porn featuring men of color, Pre-Columbian art, and NYC ballroom culture.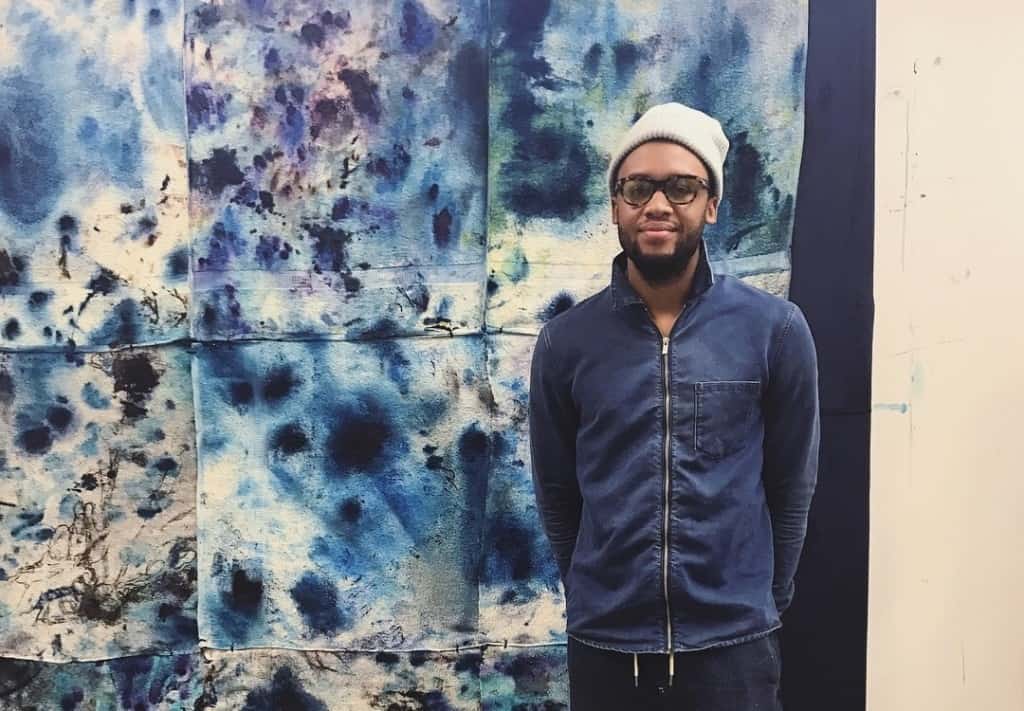 5th Stop: Vaughn Spann
Our last visit of the day was with Vaughn Spann, who uses found and industrial materials to create highly textured, almost sculptural, abstract paintings. He incorporates a lot of textiles in his work, including cotton towels and burlap, which he dyes or extrudes other materials through.
He has also been experimenting with new work since he's been at Yale, creating photorealistic portraits that are collaged together with patterned hand-made paper. Many of these new works deal with magical realism that is relevant in African American culture. This work discusses fashion, culture, and art through the photorealistic depiction of figures and the colors he incorporates. All of the drawings he creates are captivating and beautiful. The magical realism aspects are added in through the patterns on the clothing or the backgrounds of the image.
Vaughn was also kind enough to give us a tour of the 2nd Year MFA exhibition, which is one of the few times all of the departments show their work together. It was really interesting to see all the ways Yale students were experimenting and pushing the boundaries within their respective media. In the huge, multi-level gallery space we saw sculptural work by painting students and video work made by sculptors, amongst other great work.
Throughout our visit and conversations with the artists, we learned that each department has it's own culture and unique way of doing things. The program overall fosters an environment of experimentation and the exploration of materials, and encourages students to think critically about their work.
---
Overall, we had a great time on our road trip upstate! Seeing all the trees and amazing views was a treat for us, since NYC's sea of concrete and glass buildings can sometimes become monotonous.
---
Written by Kaitlyn Ward and Andrea Moreno
Featured image: Felipe Baeza, All this darkness, all this brownness