Master's programs at Sotheby's Institute of Art cover five principal subject areas: Art Business, Contemporary Art, Art Logistics, Fine and Decorative Art and Design, and Modern and Contemporary Asian Art. Within these subject areas students can take a wide range of tracks and concentrations, enabling them to create their own career pathway. Visit our campus pages to see the full curricula of each program.
---
MA Art Business
Our pioneering Art Business program was introduced in 1998 to provide a vocational bridge for art history students into the wider commercial art world. Art Business is now a developed academic discipline in which Sotheby's Institute continues to play the leading role. Balancing academic rigor with real-world applications in a dynamic learning environment with privileged access to key art institutions -- this MA equips graduates with the skills and knowledge in art markets and business management, connoisseurship, and collecting.
---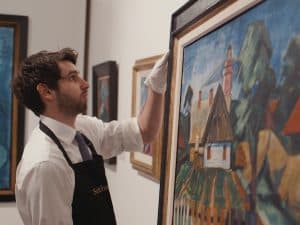 MA Art 

Logistics


Art world logistics and operations are rapidly expanding fields with accelerating employment opportunities. This groundbreaking Master's program provides students with the practical training and theoretical knowledge necessary to excel in one of the most important career paths in the professional art world today. The art world is a vast, complex, and rapidly changing environment where the care, display, and movement of art objects are multi-million dollar issues requiring high levels of thought and expertise. This program equips graduates with the skills and knowledge in the stewardship, management, and movement of art objects, essential to operating a successful commercial or non-profit visual arts organization.
---
MA Contemporary Art
Introduced in 1991, the MA in Contemporary Art was the first specialized Master's program in the subject. Focusing on art from the 1960s to the present, the programs in London and New York combine strands on art history, curatorial studies, critical theory, and professional development. Located in two key art world centers, the programs augment the lectures and seminars with guided study visits to artists' studios, galleries, museums, and private collections. The curriculum equips students with a strong understanding of historical developments, critical theory, and institutional networks in the world of contemporary art, and prepares them for a wide range of careers in the art world.
---
MA Fine and Decorative Art and Design

The Fine and Decorative Art and Design Master's programs are the most closely linked to Sotheby's Institute of Art's original Works of Art program that started in 1969 and trained several generations of auctioneers from around the world. This is a Master's degree that takes an object-focused approach to the study of the fine and decorative arts and design. Old and modern masters spanning centuries of the art and design fields are studied in depth, often up-close. The hands-on approach equips students with sophisticated visual, critical, and research skills, and extensive connoisseurship experience necessary to evaluate objects and engage directly with the marketplace.
---
MA Modern and Contemporary Asian Art
In the past thirty years, the Asian art market has grown considerably, gaining significance in the international art world.  The MA program in Modern and Contemporary Asian Art based on our campus in London, prepares students to fulfill the increasing need for professionals with Asian art expertise in public museums, galleries, auction houses, art fairs, and biennials in cultural centers around the world. The program provides students with the critical tools for understanding this growing field by bridging rigorous intellectual input – in the form of lectures and seminars – with real-world experience of art in situ at exhibitions, installations, auction previews, art fairs, and specialist showcases.